7th/8th Grade Dance Set for Friday, November 17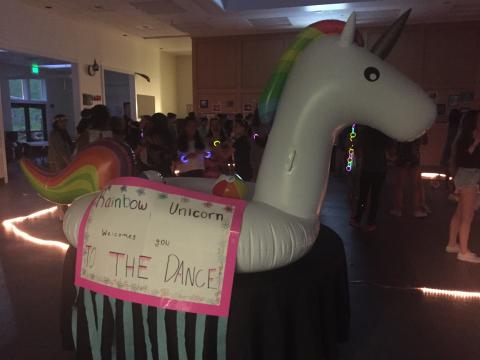 The first 7th and 8th grade dance of the school year will take place on Friday, November 17 from 7:00-9:00pm in the Campus Center.  The Middle School ASB has selected a "Glow in the Dark" theme for the dance.  Students are invited to wear white or neon colors to the dance, but should not need to go out and buy anything special to wear for the occasion.
In addition to the musical stylings of DJ Tone, there will be glow in the dark ping pong offered and episodes of SpongeBob Squarepants in the Alumni Room for students who would enjoy something other than dancing.  Middle school students do not typically "ask" other students to the dance or come with a date- everyone just shows up and has fun together.
Parents should drop off students in the upper parking lot at the beginning of the dance, but walk down to the Campus Center to pick up students at the end so that we can make sure everyone gets home safely.
Students who wish to bring a guest who is not an Overlake student or who have other questions should contact Middle School Head Mike Davidson (mdavidson@overlake.org).