Study Skills Every Student Can Learn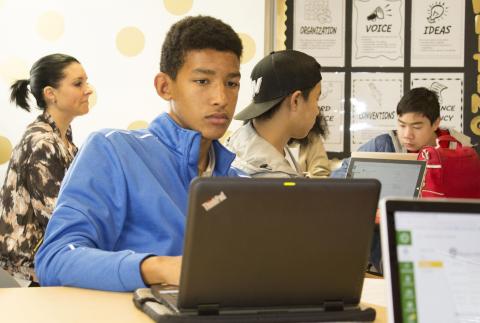 It's no secret that Overlake students are high achievers in the classroom. But is that coming with a personal cost?
Teacher Jenni Baldwin is taking the guesswork out of that question by dedicating a week of her 9th grade English class to study skills. "I've been here five years, and I've seen my students through the high school evolution from 9th grade through graduation," says Baldwin. "It became clear to me watching my own homeroom that their high expectations to please teachers, parents, and themselves with a demand to get into a good college came at a high expense."
Baldwin says student stress can be managed by applying techniques she shared with her students. She encouraged students to learn about themselves through self-awareness.
That includes how to manage homework in free blocks and afterschool time.
Another important task is to set up a "To Do" list as a way to create steps to do complete work.
Where a student studies can be just as important as how they study. Baldwin asked 9th graders if they have a designated study space and what is in that environment.
Overlake has great resources for students who may be struggling with their classes. Learning Specialists and peer tutors encouraged the class to take advantage of teacher office hours and communicating with teachers through e-mail.
Mollie Page with our Technology department spent a class period working with students on Canvas and a tour of the Technology office.
The last day was spent on stress management, and what steps students can take when they're feeling overwhelmed.
Since the unit's completion several weeks ago, Baldwin says she has seen the improvement in her classroom.
She says parents also play a crucial role. "When you see your child up at 1:30 in the morning doing homework, it's a sign they could be more efficient with their time. As a parent, you'd want to talk to them the next day or weekend about how they could have better back planned the assignment and changing their study process," says Baldwin.
In January 9th graders will reinitiate their self-awareness in homeroom sessions with Baldwin's hope that what they learned in the study skills unit was put to use going forward.