Owls Boys' Soccer New Head Coach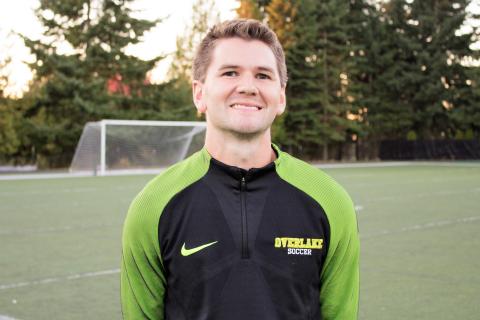 When Bob Bristol announced last spring that he was going to retire as coach of the Boys' Soccer team at the end of their championship season, it was clear that it was the end of a dynasty. Finishing as the State Coach of the Year, and, with multiple state titles leading the Owls, he was exiting at the top of his game.
When Assistant Scott Lane was named the new head coach last week, everyone realized that the success of the soccer program was sure to continue. 
Lane, who has been on Overlake soccer sidelines for half a decade moves into the leadership role as his players have grown up as his Junior Varsity players. "Bob is a different coach than I am," says Lane. "It was eye-opening to me to see how he built and led this program, and while I may do things differently, I anticipate that I'll be meeting with him a lot to pick his brain."
As a successful player at Snohomish high school and Northwest University, Lane knew he wanted to continue his soccer life as a coach. Also coaching at Northwest, he says he can bring that style to Overlake. "I want to lead a program that is defined on working hard when nothing is on the line," says Lane. "Focus on training so when you're out there, and nobody is watching, you will still be working your hardest."
While he acknowledges that he knows many of his returning players, he's quick to stress that he'll evaluate what each can bring to a game and build his team's style around that.
As Owl fans we look forward to our team defending their State Championship title. Go Owls!