Fifth Graders Learn How to Detect Fake News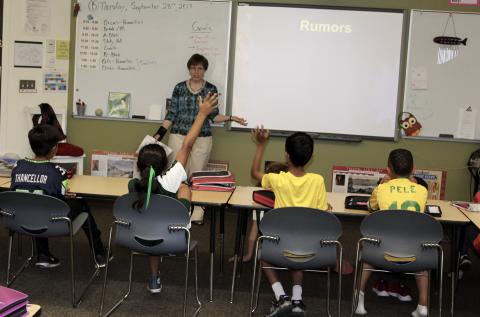 How do you know an online resource is accurate? That's the question posed to 5th graders last week during a recent class. Rebecca Moore, MS Librarian tried to help answer that question by holding a CRAP lesson.
CRAP is an acronym that stands for clickbait, rumors/hoaxes/fake news, advertisements/sponsored content, persuasion/bias and is a way for students to see if what they are seeing online is true and reliable information.
"The idea for this came from the widely used C.R.A.A.P. Test (example here), a website evaluation tool used at the secondary and higher ed level," explains Moore. "I knew the 5th grade students would get a kick out of the word "crap" as used by a teacher, and that the humor of it would help the information stick in their brains. The original C.R.A.A.P. stands for "Currency, Relevance, Accuracy, Authority, and Purpose." I repurposed the idea so that it applied to differentiating between unreliable (fake) resources and reliable sources and came up with my own acronym."
Moore led the class through a series of examples of fake news, from hoax websites, clickbait sites, biased reports, and sponsored content.
"I have actually included a lesson on evaluating websites in my 5th grade orientation class for many years, targeted mainly towards helping students recognize good and bad sites for their academic research. Currently, with such a focus and concern about fake news, it seemed time for an overhaul of the lesson. I wanted to spread the net a little more broadly than just academic research, addressing other online information the students would regularly encounter."
And although these students are 10 and 11 years old and still have many academic years ahead of them, it's not too early to begin awareness on this topic. "They live in an online world and have encountered much of this kind of information before, but may not have put all the pieces together to realize exactly what they are encountering," explains Moore. "For things they have not encountered, they can now be more aware and thoughtful when online."
Moore showed the students how they can learn more about an organization online by clicking on the organization's "about us" section on their website, as well as cross referencing on Google to assess the background and overall mission/views of the organization. The library team feels strongly in supporting Overlake's ongoing focus of digital citizenship lessons among our students.
"It is important to think about what skills and experiences do we want our students to have when they leave Overlake," says Ann Ewel, Director of Library Services. "This 5th grade program is part of a plan we are developing to integrate Digital Citizenship and Media Literacy across the curriculum and grade levels. Digital Citizenship folds together the physical world and the digital world, staying mindful that our values and norms should remain the same in both arenas. While our students are digital natives, that doesn't mean that they intrinsically understand the online world."
While a lesson in CRAP is focused for our young students, it could also be beneficial to the adults in our community. "It's always good to refresh your knowledge about online information, as it changes daily and there are always more ways in which people try to get your clicks, your money, your identity, etc.," says Moore.
A good resource for parents concerned about digital citizenship and media literacy is Common Sense Media.