Join Us to Honor Overlake's Athletic Hall of Fame Inductees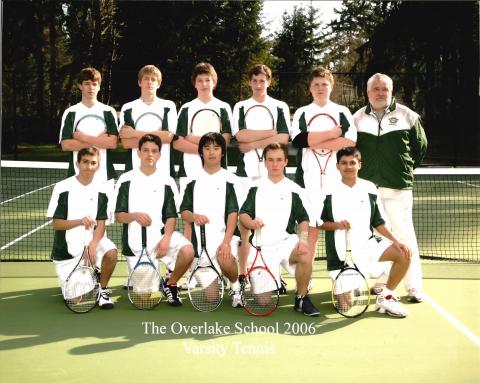 Mark your calendars for Saturday evening, October 7 to help us honor the induction of our latest Athletic Hall of Fame Owls during our 50th Anniversary celebration.
Longtime teacher and coach Bill "Army" Armstrong and the 2006 Boys' State Championship Tennis team will be added to Overlake's prestigious sports club.
Athletic Director John Wiley says the induction ceremony is for all Owls including alums, parents, students, faculty, and athletic supporters. "I encourage people to come to the Gym and view pictures and stories of our past inductees," says Wiley. "The success behind each picture is a reflection of what we want our student athletes to experience here at Overlake. It's the commitment to excellence. It's being a leader and teammate, and it's about greatness on and off the field."
Armstrong was the 2006 team's coach, but his impact on Overlake athletics spans our school's entire five decades. Coaching a variety of sports including basketball, soccer, and tennis, Armstrong led hundreds of Owl athletes in practices and competitions. "I'm always hearing new "Army" stories. When I think of Overlake, I think Army," says Wiley. "His teams accomplished so much including winning championships, but it's how he shaped athletes lives that continues to make a difference today."
The 2006 Boys' Tennis team winning the state championship was no surprise. Easily defeating league competition, the team was deep and full of talent. Single's Champion Sean McBeath '06 dominated play from the first match to his final competition of his Overlake career. The double's team of Andrew Kastner '06 and Aaron Richardson-Osgood '06 swept the Double's Championship with a straight sets win over rival University Prep. "The incredible thing about those guys is that they not only won on the court. They also captured the state sportsmanship award, and that shows the caliber of people they were," says Wiley.
Overlake's Athletics Hall of Fame ceremony happens every other year so Wiley wants our entire Owl community to come up and show their support. Join us at 5pm in the Gym, and the only thing you need to bring is your Owl spirit!
Click here to see photos of that 2006 team, and Go Owls!
Click here to see all our event information for our 50th Anniversary celebrations.