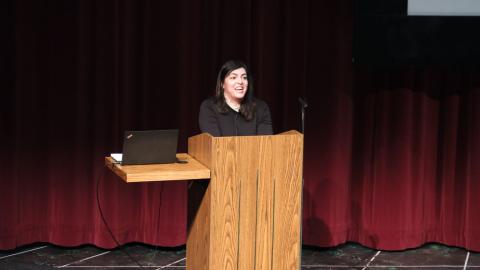 Congratulations to Sahar Fathi ('01), the recipient of this year's Distinguished Alumni Award. She currently works as the Policy Director for the Washington State Attorney General's Office. This afternoon she spoke to Middle and Upper School students about her experience growing up as the child of immigrants and what inspired her to pursue working in the field of policy. Read on to hear a few of her thoughts on Overlake and the potential of the next generation of owls.
What inspired you to go into this field?
I've known I wanted to be an attorney since I was 9. I told my mother I wanted to work at the UN and fight injustices. I realized after law school that I was interested in writing laws that work for people who aren't seen by systems. My parents are both immigrants, and I think every child of immigrants struggles to be understood and seen. Events like 9/11, the Muslim Ban - really shaped my perception of inclusion. 
Do you have a favorite memory of Overlake?
There are a lot of great memories - I think what I loved most about Overlake was the community. The teachers were so invested in us - they supported us all the time, they pushed us to be the best version of ourselves - versions that we wouldn't even realize were our destinies until much later in life. They still do, more than twenty years later I still hear from my teachers at Overlake.
Are there things you learned at Overlake that helped you get where you are today?
Certainly the tangible skills - my writing, for example, was particularly nurtured and challenged at Overlake. But I also learned innovation and creativity. The idea that perhaps there are multiple solutions to a problem. 
What advice would you give our current students?
I have always been so impressed by the new generation. I think there are so many challenges they will have to address - and I would say a few things: 1. be kind - you never know where someone is coming from or what their lived experience is. 2. trust your gut - your generation will change the world. I have no doubt about that.