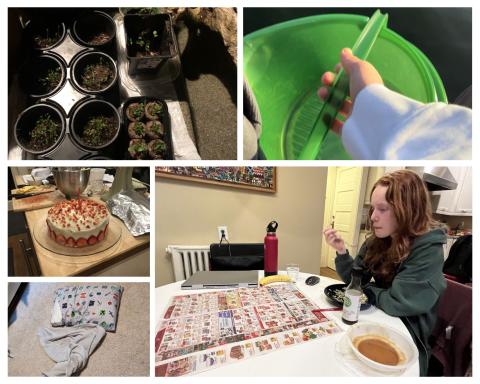 The 30 days project is an 8th grade tradition at Overlake where students take on a project that helps create awareness and empathy for others and engage in activism. Here are some cool things a few students took from their experiences.
Drew C.
Drink boiled water from Lake Washington only to empathize with those who have no access to clean water.
"One of the coolest things I didn't necessarily learn but realized is the huge distances these people walk for water. I walked about 0.8 miles for my water during these thirty days while women and children in sub-Saharan Africa walk on average 3.7 miles in much harsher conditions. I got very tired with the distance I was walking and it opened my eyes to how difficult it truly is for these people."
Clementine D.
Carrying and caring for a baby doll to simulate teen motherhood and to research the issue to understand responsibility and teen mom issues.
"I learned activism requires a lot of hard work but can also be enjoyable and interesting."
 Jayden T.
Studying and learning about Christianity to reflect on personal values and learn about this religion in more detail.
"I have continued to go to church (since completing the project). The coolest thing I did during my project was getting baptized. At the end, I was given a bible as a gift. Everyone there was incredibly kind and supportive, and I felt that I was a part of the family at the St. Thomas church."
Derek L.
Pollution/garbage/waste. Use only reusable containers – zero waste.
"There are so many cool things I've done in the past month involving the 30 day project. I think one of the coolest things I did was being able to make an impact and spread awareness through nextdoor. I was forced to switch my activism portion of the project when I broke my foot halfway. I had originally planned to take time to go to a few parks and pick up trash with my parents or a few friends but after I injured myself, I decided to switch to something that required less body movement. I decided to do something that involved spreading awareness in the community. I then made a gofundme and poster to go out and put up but I ended up going for a social media platform. Social media has become so popular, so I decided to do a nextdoor post. I was so surprised when I had so many people I didn't know donate and so many people react. It was really cool for me to see our community go to work and spread love to an 8th grader doing a school project. I wasn't expecting people to see a random kid post something about a world issue and actually do something. I always felt that adults usually don't always listen to what kids say so it was really cool to be able to see adults listening to my ideas and giving feedback. It made me realize that if I had not made a post then I wouldn't have been able to make this impact. Although I may have less power than an adult I can still try to make my voice heard because if I don't try nobody will ever hear it. It certainly made me feel more mature and grown up when I was able to say I followed through with my project and actually did the work. I feel that people already knew about pollution being an issue but they needed a spark to show them how to help. It felt pretty cool being that spark."
Smaran M.
Homelessness – sleep on ground, work/sit on ground, no entertainment on screens
"One of the biggest things I learned from doing this project was the extent of problems people go through. It was just for 30 days (even less, because of some exceptions), and I was reassured I could go back to my normal life afterwards, but if it was still so hard for me, how hard is it for people who go through it every day? Even though I didn't actually mimic their circumstances, this project opened my eyes to the people outside my bubble, and gave me a sense of how hard some people's lives really are."
Laila B.
Simulating living on SNAP, food stamps to empathize with people who are good insecure. 
"The best thing I did during my thirty-day project was making a cake. I felt accomplished when I was done, but making it really tested me. Planning out the cakes ingredients was the hardest part. It was hard for me to make a cake that would taste good, look good, and not cut too much into the money that I needed to have enough food. Some of the things this taught me was how being on food stamps is that it makes you understand the importance of budgeting and planning your expenses. You learn that every single penny counts, and it teaches you to be resourceful and efficient with your spending. It also gives you a newfound appreciation for the value of food and the impact that it can have on your health and well-being. Ultimately, living on food stamps for thirty days has motivated me to learn and employ long-term money management skills that will enable me to live a more stable and secure life in the future."