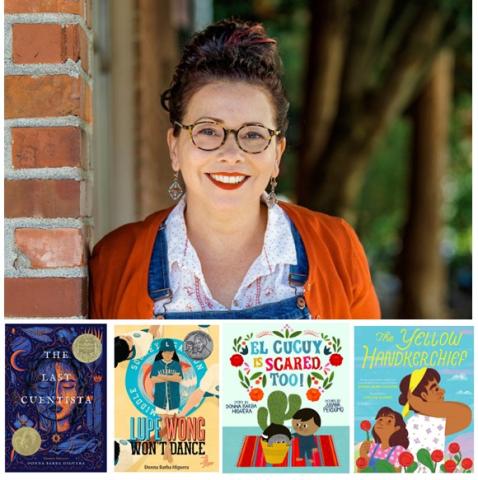 The Overlake School Welcomes:
Donna Barba Higuera
Middle School Writers' Symposium: April 13th, 2023
Donna Barba Higuera grew up dodging dust devils in the oil fields of central California. She was a
daydreamer, constantly blending life experiences and folklore into stories. Now she weaves them into picture
books and novels. Higuera currently lives in the Pacific Northwest with her husband, four children, three dogs,
and two frogs. El Cucuy Is Scared, Too! was her debut picture book, and she is also the author of the
middle-grade novels The Last Cuentista, winner of the Newbery Medal and Pura Belpré Award, and Lupe Wong
Won't Dance, winner of a Pura Belpré Honor, the Sid Fleischman Award for Humor, and a Pacific Northwest
Booksellers Award.
In advance of her visit, students can order signed copies of her books that will be picked up during her visit. Limited copies will be available on the day of, but preorders are encouraged so the author can bring enough copies. 
The Writers' Symposium brings in an author every year who workshops with a different grade each year and the grade rotates. The goal is to ensure that every student gets to workshop with an author at least once during Middle School. 
The Symposium was developed in 2012-13 in collaboration with the English department. This event differs from the general Writers' Symposium as it is for the Middle School. It ensures that there is an opportunity for a visit from an author that appeals to younger students. 
Here are some of her books available for preorder. Details on ordering below. 
The Last Cuentista; $18.99
Petra alone now carries the stories of our past, and with them, any hope for our future. Can she
make them live again?
Lupe Wong Won't Dance; $12.99
Lupe needs an A in all her classes in order to meet her favorite pitcher, Fu Li Hernandez, who's
Chinacan/Mexinese just like her. So when the horror that is square dancing rears its head in gym?
Obviously she's not gonna let that slide.
El Cucuy Is Scared, Too! ;$17.99
A boy and his monster confront their mutual fears in this unlikely friendship story that's rooted in
Mexican folklore.
The Yellow Handkerchief (El pañuelo amarillo); $18.99
A child confronts conflicting feelings of embarrassment and love for her Mexican abuela in this
moving, personal story.
Ordering deadline: April 6th
To order signed copies, visit brickandmortarbooks.com/resources/donna-barba-higuera-school-visit. Orders are placed through Brick & Mortar Books, and you can contact info@brickandmortarbooks.com with any questions.
When checking out, select the option to pick up in-store (orders will be available to pick up at school during the
author visit). In the "Instructions or comments" box, please specify:
● The school your child attends
● Child's name
● Advisor's name
● Name for personalization (if desired)
Thank you!