Inside the classroom: a deeper look at Radical Empathy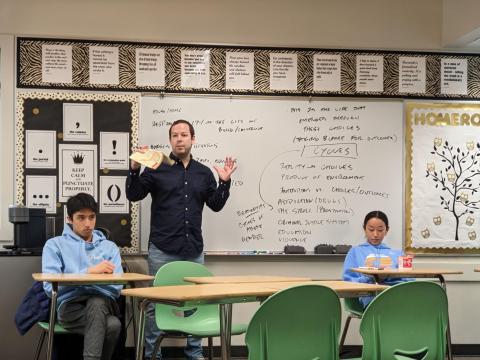 This week we stepped into the classroom to share a little bit more about a popular senior English class, Radical Empathy.
Radical Empathy was designed in 2014 by English Faculty, Nate Edmunds to be an English elective that would fulfill the standard requirements. Edmunds modeled and named the class after the work of author Colum McCann who co-founded the nonprofit organization, Narrative 4. This organization aims to answer the question, 'What is the highest aim of storytelling and how can we harness that energy to transform the world?'. They work with students to promote empathetic storytelling and understanding to break down stereotypes and prejudice while promoting connection.
"The line between empathy and sympathy, and the complexities of empathy are things I hadn't truly considered before this course. I have realized that empathy is the journey of trying to understand what someone else is feeling while recognizing the effects of their environments and their unique life experience led to you never completely being able to understand exactly what they are feeling," says Senior Abby R.
At Overlake, the class looks at empathy and values through the lens of literature. In the fall they read works on nonfiction and in the spring, they switch to fiction and eventually round out the year with a collaborative practical unit.
"I hope students have an experience in the class that allows them to think about questions in their own lives. Things like, 'Why do I value what I do?' 'How do I define success?'," Edmunds says.
The class is structured heavily around discussion: small group, pair, and large group discussion can be seen in almost every class.  "It's a student driven class. My ideal class is that 80-90% of the words spoken are from the students," Edmunds says.
"Nate loves to immerse us into books while encouraging us to lead the discussion. He guides us but allows every class to be unique in the discussions, conclusions, and complications that stand out to us," says Abby ('23).
This week the class dug into their current book, Let the Great World Spin, a book that examines how people deal with the worst kinds of hardship. Edmunds encouraged the students to dig into why a character responded the way they did considering not only their immediate circumstances but also their background and influence that may have come from the cycles and circumstances they were born into. Pushing them a step farther, Edmunds asked the students to 'step outside of the text' and apply what that thought process to their own lives and examine what kinds of cycles and systems they are a part of and how that might affect their lives.
This practice of empathy in action helps students as they enter the final section of the class, an exciting unit where Lisa Orenstein's Global Health class joins forces with the Radical Empathy class to examine the intersection of literature and science through the lens of the Ebola outbreak. Students meet in the same classroom each day and Orenstein and Edmunds co teach on the fiction novel, Station 11, a novel taking place during the spread of Ebola. Orenstein supplements with scientific articles and resources to examine this time period. Students look at how scientists went about understanding the needs of communities that have different religious or cultural considerations. That outbreak provides a way for students to apply the empathetic skills they have been honing through the class into practice with a very real intellectual exercise.
Ultimately, Edmunds hopes that students go into the world beyond Overlake carefully considering not only their own values and convictions, but also the values of others. "Long term I want them to know that those questions are multi-dimensional and that they are going to be surrounded by people who think different from them in the world," says Edmunds. "I want them to appreciate the diversity of perspectives they will encounter."
"Being able to recognize empathy, or lack thereof, it's complexities, and the commonalities of the human experience is something I will take with me in all interactions I have in the future," Abby ('23) says. "I can't recommend this class enough, it has been so much fun and has taught me so much about myself and the world around me!"