The Creation of the Owls Sanctuary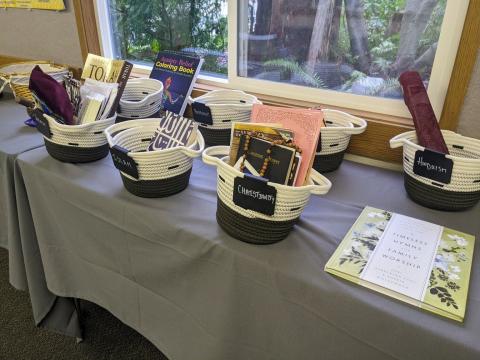 Overlake has always been a community that welcomes students of all faiths. But what does it look like to put that into practice? The Muslim Students Affinity (MSA) considered just that as the students' recognized that they wanted and needed a dedicated place on campus where they could practice their five daily prayers that fell during school hours.
Initially, students would try and find an empty classroom or go to one of the DEJI offices to pray, but that would quickly become crowded and challenging. So, the MSA presented the idea of a dedicated space for themselves and others to practice their faith or just relax during the school day. The MSA joined efforts with the Impact clubs to create the Owls Sanctuary housed in the South Annex.
"The Owls Sanctuary is a place meant for all students and faculty to unwind and focus on themselves in the middle of a busy school day," says Isha M. ('27). The Impact clubs filled the sanctuary with texts and objects relevant to several religions including Judaism, Islam, Christianity, Hinduism, and more. There are also calming activities like coloring books, a cozy rug, and twinkle lights to set a calming atmosphere for those who need a space to rest throughout the day.
Senior, Anhar I. has expressed a great appreciation for the new space having spent seven years at Overlake utilizing the DEJI office or getting creative about where she prays during the day. "As one of the few Muslim students on campus, there was never a proper prayer place for me to carry out my daily prayers during school hours. The recent implementation of a designated prayer space for all students is very heartwarming to me as well as a necessary change on campus."
On Thursday this week, the freshmen class gathered to hear a world religion panel made up of seniors who practice a variety of faiths. There were students from Jewish, Orthodox, Muslim, and Hindu faiths represented on the panel who shared their experiences practicing their faith on campus. Students from multiple faiths shared about the times that they fast during the day and the challenge it can be, especially at lunch time. Senior Musab C. expressed how nice it is to have a space like the Owls Sanctuary to go hang out in during lunch when being in the Campus Center can be challenging if you're trying to fast.
The MSA and Impact clubs hope that the sanctuary space is utilized by students whether they practice a faith or not. They have made the space as cozy and inviting as possible for everyone seeking momentary respite. "I personally really appreciate every single time I visit the sanctuary, it feels like almost a different place from the rest of campus," remarks Isha ('27).