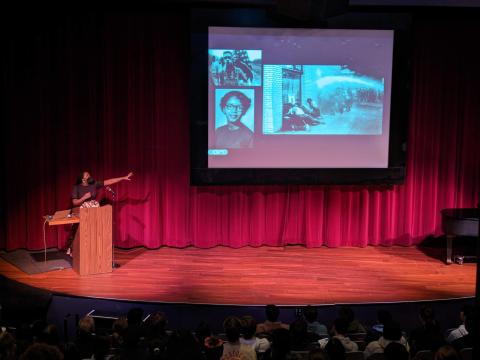 Today the whole community gathered to participate in the Martin Luther King (MLK) assembly. This assembly is a tradition at Overlake and has not been held in person for two years. The energy was electric as the Fulton stage was alive with students from Middle and Upper School Impact clubs leading the assembly.
The feeling of community was palpable, and everyone was excited to support arts performers who shared their talents. Members from the BSU opened the assembly with a dance, Senior Eashan V. shared an arrangement of Lift Every Voice and Sing on the piano, eighth grader Hailey K., danced, and the assembly closed with a moving song from the Overlake choir.
"It's such a powerful time for the community to come together to recognize and honor the sacrifice of Americans during the civil rights movement," said Mahtab Mahmoodzadeh, Director of Diversity and Inclusion.
The keynote speaker was Bree Newsome, an artist, community organizer, and activist who is best known for climbing a flagpole in 2015 in South Carolina and removing the confederate flag in an act of nonviolent disobedience. That act ultimately lead to her arrest, but her actions ignited public attention and ultimately led to the permanent removal of the flag nearly two weeks later.
Newsome shared that she never planned on being an activist, in fact she was an artist by trade. However, she realized that art plays a pivotal role in revolution, "creativity has the power to move and change the world," says Newsome.
During her presentation she focused on the civil rights movement and pointed out that many people involved in protests were students and not just college or graduate students but high school and even elementary age kids. She encouraged students to stand up and use their passions and skills to be a part of activism. As she recounted the story of scaling the flagpole, she highlighted that there were at least 20 people on the ground who were involved in planning and making that act a reality even though she was the one seen in the public eye.
One central point of her message was to share that no act of involvement is too small and that students may never know or see the ripple effects of an action. "It's never just about the work of one person," Newsome says. Students were inspired by her message, breaking into applause when they saw the video of Newsome removing the flag.
To learn more about Newsome and her work, click here.