Get ready for summer at Overlake!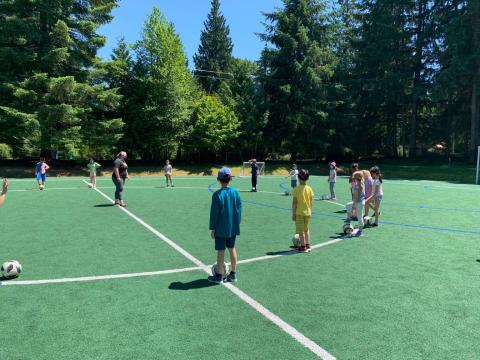 While late January includes a lot of grey skies, cold weather, and a longing for more sunshine, at Overlake it also marks an important day that's on the horizon: the start of summer program registration!
Summer 2023 promises to be our best summers yet, as our amazing faculty and staff are on board for another great summer season. This year we return many of our staple camps: Engineer Design Challenge, Debate, Mission in the Kitchen, and Wilderness Survival, with many new offerings in the arts and humanities too.
For Overlake Middle School students, the summer program is a great space to model what our faculty use it for: to experiment, to get outside their comfort zone, and to have fun trying something new. Many of our teachers offer camps outside their traditional teaching sphere, and we encourage students to follow their lead. This summer, we'll offer one-week camps from June 20-August 4 for students entering 3rd-8th grades.
For Overlake's Upper School students, the summer program is a great opportunity to bolster leadership skills through an internship or job. Current 9th and 10th graders can earn service hours by volunteering as interns, and current 11th and 12th graders can earn paychecks as counselors. Over the last nine years, more than 50 Overlake students have worked in the program, and we are excited that now many of our campers from several years ago have transitioned into staff positions.
Finally, we are excited to share that all summer program revenue helps fund Summer Link, a free enrichment program for families from economically disadvantaged backgrounds. Thus, whether an Overlaker joins as a camper or staff member, they also contribute to another program that is critical in the larger educational landscape.
Registration opens on February 1, and intern/counselor information will be posted on February 6. Check out the website for all the information. We hope you will join us this summer!