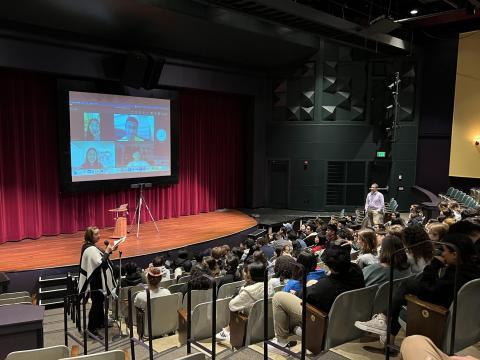 Around here we always say, 'once an owl, always an owl'. As such, grads are always welcomed back with open arms. One of the special times we get to welcome alumni back is during the annual Grads Return event. During this time, current Upper School students get to hear pearls of wisdom from alums about their college experience.
Students heard virtually from 8 different alumni at a variety of schools with majors varying from the sciences to international relations and business marketing.
When alums thought about their Overlake experience, many commented on how prepared they were for the amount and kind of writing they would do in college and also to manage their time well.
It's been said before, but Lucas Brito ('20) says, "the close relationships you have with teachers are key. A lot of people in college are afraid to approach their professors." But the agency and empowerment Overlake gave him has helped him learn how to approach his professors and seek extra help and opportunities.
Meili Zhang ('19) echoed this sentiment. "I appreciate that Overlake prepared me to advocate for myself. Professors don't know your name unless you speak up or go to office hours. Personal relationships can really help," she says.
When it comes to making college decisions, most alums heavily encouraged visiting schools when possible and to go where you feel like you fit in with the people. But also, Mehek Gosalia ('21) acknowledged that visiting wasn't always possible and in fact she had not visited her college before enrolling. She advised students to get creative when researching the culture of a school. She recommended using Discord and other social media to get an idea of the kinds of students at a school.
One thing students were curious about was what alums were involved with outside of academics and how they balanced their interests.
Angela Lane ('22) says, "you have to prioritize and say, I can't do everything. Prioritize the things you really love. Once you're a freshman again in college, you can try everything again. You don't have to try everything in high school."  However, she recommended that students pursue interests they may already have into college even if it has nothing to do with what they end up studying. She is pursuing a career in neurology yet loves being involved in her college's choir program and finds that it keeps her balanced and is a great way to meet people.
Steven Abbott ('19) encouraged students to keep their options open in high school and participate in a broad range of activities. He recognized that while he is pursuing a computer science major, his Overlake theater involvement has already helped him in his pursuits. "It turns out that showing someone else your code or giving a presentation is not that much different than performing arts or improv. It helps you communicate your ideas and present technical concepts in a more understandable way," he says.
Brito offered a slightly different perspective on balance in college saying that regardless of what you expect going into college, things will change. "It's going to change and it's not going to be what you expect. And you're going to have to be ok with that." He says that he does not have as much time to pursue things like hobbies during the school year, but that he spends his summer pursuing his extracurricular interests, like playing in two bands over the summer. Something he doesn't have time and opportunity to do at college.
And when it comes to college 'work life balance', simply put, Gosalia ('21) says, "skew a little more on the 'life' side of work life balance. College is equally about becoming a cool person."