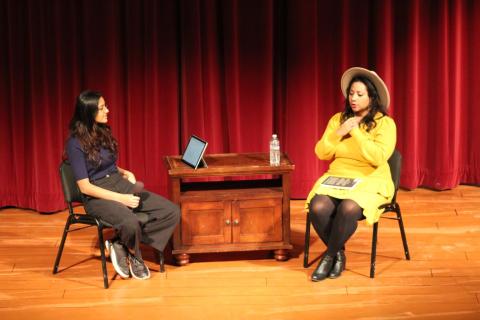 The US Writer's Symposium returned in person this year welcoming author Khalisa Rae Thompson, who wrote Ghost in a Black Girl's Throat. Students have been reading several of Thompson's poems in their English classes and the Symposium provides a great opportunity for student's to hear first hand from an author they are familiar with.
Thompson took time to share what inspires her work and how she drew on her own personal experiences to write some of her poetry. Much of her work delves into the challenges of racial tensions in America. She describes how living in the south has exposed her to racism but also explained that it's not unique to that geographical area and is extremely important to call out.
After her presentation to the Upper School, where she shared several of her poems, Senior Neha D. interviewed the author from the stage in a candid tabletop conversation. Neha asked Thompson specifically about her advocacy work in the publishing world. One thing in particular she has worked hard on is helping expose the disparity in salaries between white and people of color authors. A popular hashtag #publishingpaidme gained traction a few years ago leading to authors, and eventually other artists, sharing their compensation packages from publishing houses. It became clear that people of color were offered significantly less for their work than their white counterparts.
Through her advocacy work, Thompson helped start a yearly panel discussion sponsored by Stanford University that has forced publishing houses to be more transparent in their numbers and author compensation giving people of color a higher chance of being published.
Her advice to students was to always stay strong and develop great relationships with mentors as they go. As cliché as it may be, she advised students to 'never judge a book by its cover' and always approach every interaction with dignity and respect. She noted that the majority of opportunities she has had in her career that led to her being published happened as a result of key relationships who were able to open doors for her.
To read more about Thompson and her work, click here.