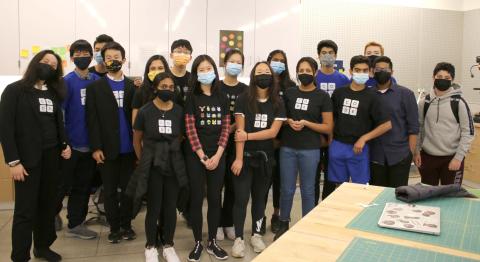 Roles were reversed as the student became the teachers during the Hour of Code on Thursday. The Hour of Code is an event hosted by schools across the country to make coding more accessible to everyone and show people that anyone can code, regardless of their experience.
The Middle School Computer Science Foundations class, taught by Patricia Cushing, Computer Science Faculty, hosted several adult guests and led them through a beginning coding exercise that involved programming a disco dance party. Guests spanned the academic disciplines including PE teachers, English teachers, and even Matt, the Head of School.
The guests had a great time learning a new skill and were impressed at the level of skill the students possessed. Aimé Ngandu, World Languages Faculty said, "I had a very good experience to be taught by Rohan C. in the class of Computer Science Foundation on the hour of code. I learned how to create some animations. It was amazing!"
Christian Fulghum '77, said, "I was truly impressed with the coding skills of the 7th grade student I was paired with during the competition. She is already coding in Python! As an Overlake Alum, I never cease to be impressed and proud when I speak with our students!"
The Computer Science Foundations class is the first exposure to Computer Science students get in Middle School and for many of them, their interest has been captured.
"Computer Science isn't just coding. In the bigger picture, CS is about problem solving and analytical thinking. These are skills all students should learn – skills that are applicable to all fields and disciplines," Cushing said.
The students wanted to demonstrate that computer science is not as intimidating as it might sound, and anyone can do it. Here are some thoughts from students on why they enjoy Computer Science and how they see the applications in the world and their future.
"I first got into coding when I did code.org in elementary school. I would say that it's actually very rewarding and not very difficult to get into," -Noni C., '24
Code.org is the organization that first started the Hour of Code movement.
"One thing I love most about coding is the possibilities, there is nothing you can't code on a computer. Your imagination is your limit. If you can think it, you can code it. I got my start coding on scratch in elementary school. There are so many ways to get started, and tech companies have made it so accessible. I think that business and compsci won't be two separate fields for long," -Alec O., '23
"It (coding) is everywhere! From writing an email to every single canvas assignment I have had to turn in. I really appreciate that coding is offered (at Overlake) in many different stages from programming classes starting in middle school to post AP. I also appreciate the fact that the APCS course is designed in a way that it is available to people with no experience because otherwise, I wouldn't have found myself enjoying coding!" -Chloe K., '23
"One of my favorite parts of coding is the freedom in ability to create with it. I think that it is really interesting how many things can be made even with more simple code, and I think that beginning to explore that has been fun for me," -Sonja L., '23
"I see computer science every day when I drive. What looks like a simple traffic light, is actually code. Additionally, the GPS on my phone also works because of code," -Celina K., '23
"Everyone can code. Programming or coding, is essentially giving a computer simple instructions. If you can give yourself the instruction to wake up every morning, then you can also give such simple instructions to a computer. In reality, many complicated programs you see, like games and social media, are just extremely big conglomerates of many simple instructions," -Tony W., '23
"I want to pursue a career in the medical world, and I think that with medical technology growing and programming becoming an increasingly popular method to power these technologies, I believe that CS will be a crucial part to any career in the future," -Brian H., '24
I enjoy the feeling of being able to create something out of plain characters. The enthusiasm I feel after piecing together the "puzzle" is very rewarding and priceless," -Ethan H., '24
"I am interested in pursuing law. I think CS can help me with reading contracts or other documents more carefully because when coding, errors occur which leads me to go back and scan the code to find the mistake that caused the program to not run," -Sylvia L., '24
Want to see an example of what the Hour of Code participants created? Click here to see a finished dance party coded by Kelly Vikstrom-Hoyt, Librarian.