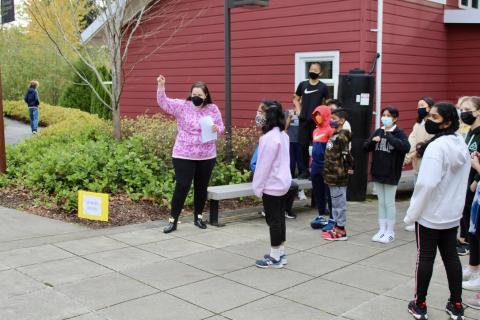 Getting students engaged with service learning is a tall order during a pandemic. Many of Overlake's regular non-profit partners, who assist at-risk populations, don't want outside volunteers potentially putting their clients at further risk. "This means we needed to see what we could do without in-person interactions," explains Jacqui Jackson, Director of Service Learning.
So, enter a year of reimagined service learning. Jackson believes there's still work that can be done and learning that can occur despite the restrictions of staying on campus.
Case in point, a group of seventh graders who spent the afternoon learning about hunger and poverty. "Students are learning about the connection and root causes of poverty and hunger and what they can do to make a difference in our community through small actions like creating notes to go in grocery and meal delivery bags for the nonprofit Lifelong," explains Jackson.
Each Middle School grade level focuses on a different theme. Fifth graders are focusing on caring for public spaces, and in particular their campus. Sixth graders are exploring ecosystems and habitats on our 73-acre campus. And eight graders are engaging with community. In particular they will work with two student created non-profits, Teens Who Care and Memory Mates, helping young Afghan refugees and senior citizens.
For the seventh graders, Jackson placed placards across the lawn outside of the TLC building. Each placard had a mileage listed, from less than 50 miles to more than 3,000 miles. She asked the seventh graders how many miles from Overlake various produce is grown that is used by our kitchen staff in the Campus Center. For instance, celery hails from Kent, Washington, while the bananas in the Campus Center come from Ecuador.
This type of understanding about food logistics, including food deserts, as well as types of hunger, and causes of poverty, provide a deeper level of empathy and activism that can help students begin a journey of service learning, rather than just volunteering. "Volunteering is finding an opportunity and going and doing what is needed. There isn't much pre-work and there is little to no reflection," says Jackson. "Service learning is learning first about the issue. Why is there a need for volunteers? It's understanding the root causes of the problem and working alongside people experiencing the issue to create change. It's then making a plan with experts and consistently reflecting and repeating the previous steps. True change only happens through understanding where we've been, leading with empathy, and accepting non-closure."
The students working on their lessons in hunger and poverty spent the rest of the session writing out positive notes to recipients of food donations from the Seattle non-profit Lifelong.
"Once I've met with each group in the fall, we will come together again second semester to review what we learned, learn about local organizations focused on their grade-level theme, then select an organization to partner with and put together a plan of action," says Jackson.
Students will then complete their plans and share it with the Overlake community. We'll check back in with them next semester to see what they've created for change!
Click below to see the seventh graders in action.