Students Build Tiny House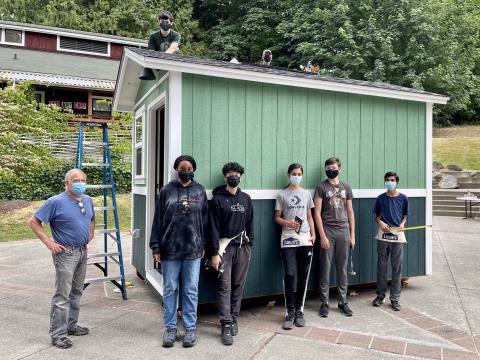 Several Overlake students are spending their first weeks of summer break back on campus doing construction labor for a good cause. 
The students are part of a service project that is building a tiny house for the homeless.   The organization that we are working with, www.lihi.org is very excited that we are doing this.  "Tiny houses offer tremendous benefits over tents – they are safe, weatherproof and lockable – and the Tiny House Villages allow residents to reclaim their dignity and get on a path to permanent housing, employment and connection to supportive services."
Construction began on June 21st, and the team faced challenges from the start. From a record breaking heatwave to construction material shortages, the student volunteers didn't let adversity slow them down.  Teachers Bill Johns and Kent Renno oversee the build. "Everyone learns how to use construction tools, read plans, frame a house, install roofing, electrical, and siding," explains Renno. "We also spend time learning about the work that LIHI does in our community and other ways we can help with the homeless crisis."
With the laying of shingles almost complete, it's expected that LIHI will take delivery of the home in early July. It's just another example of Overlakers learning by doing, and, in this case, making a big difference in our community.
Click here for a slideshow of the construction process.