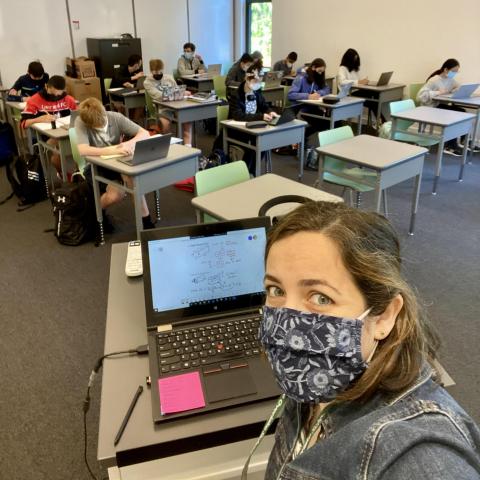 As Laya Fawal's Geometry students took their seats for their first day of class this week, it felt different. "This was my first 100% in-person class in over a year, and it was surreal, exhilarating, and exciting. The entire atmosphere felt different," says Fawal who captured the moment with a selfie. "I logged off from our empty zoom call, turned off the polly cam and announced to my students that we don't need to login to our online class today because we are all here! They erupted in cheers and claps as if we just conquered an invisible battle or won a contest! We took a break from screens and projectors and technology that day. Class was full of laughter and giggles and chatter. We learned about surface areas of regular prisms and took turns solving on the whiteboard, discussing our strategies, exploring plastic models of prisms. Sure, we were still all masked and keeping a safe distant from each other, but I remembered why I love being a teacher... they remembered how to be happy, goofy, chatty eighth-grade students. It felt like home again."
Similar scenes played out across campus this week as Overlake returned to a four day in-person schedule. And even though the school year nears its end, that feeling of a return to normal is evidently clear. 
With less than a month of the school year remaining, we talked to several key players who are shaping our final weeks.
Upper School
With the Class of 2021 off campus for the remainder of the school year for Senior Projects, the return of Upper School students was made easier with physical distancing and sharing spaces. Many 9th, 10th, and 11th graders were reconnecting with classmates and teachers. Upper School Head Gerald Buhaly says rows of students physically distanced is better designed by teachers and a subject. "If you're in an Ashley Powel Science class you'll find the kids in rows as she does many demonstrations. Jenni Baldwin's English class has more breakout sessions with two or three kids having discussion in and out of the classroom space," explains Buhaly. "Our teachers love that they're teaching to more kids in person and continue to discover new instruction methods, but I'm also really impressed by the older students' mentoring to 9th and 10th graders, which is a really important component of the culture of our school."
Students have been clamoring to share a space with one another with continuing or new relationships.  Assistant Upper School Head Krishna Davda says the student life component focuses on the student and equates newly built out times as sort of a high school version of recess. "While that requires a bit more physical distancing prompting by us, we're trying to structure periods in the day where they can reconnect by design, either during lunch periods, clubs, or zero period. So you still have a lot of connection, but the approach to distancing can more lax because the students are listening to us and following the guidance." 
A space that has become really popular with students is in the new Whitten Math & Sciences Center. "Since we brought back students in February, it's really the place to be. There's so much student energy in there during the free blocks. Some ninth-grade boys figured out how to hook up Mario Kart on the screens in the student lounges and before the Seniors left, they were playing FIFA everyday. I don't have a problem with it because it's their free time and they use it as they wish."
As for improvements, morning health screening times are getting better with fewer backups. In addition to screenings, there is now traffic control. With the last few weeks of school, we appreciate everyone's patience and teamwork which continues to focus on our students. 
Middle School
In Middle School, many students are new to Overlake, and while they have spent a lot of time getting to know their classmates virtually it's a whole new world interacting face to face.
To help Middle School students transition back into in-person school, the Student Support team created "Operation Socialization," an intentional time to help kids play together.
"We're trying to introduce play wherever we can. It's going to help students recover from the pandemic, because underneath the academics is their sense of childhood," Susan Essex, Director of Student Support said.
Operation Socialization came out of a need to rethink club time two days a week. Now on Tuesdays and Thursdays, Middle School students can hang out all over campus and just be kids. Students are watching movies in Fulton, playing during open gym time in the Gym and Fieldhouse, playing (nonviolent) video games and spike ball in the tent behind the Fieldhouse, playing Frisbee on the turf behind the Gym, or doing quiet games or activities in the library.
As a department, the Student Support team has been brainstorming, "what can actually make this (the pandemic) better? Some of this is just the pandemic. But introducing play was a practical way to meet our department's emphasis," said Essex.
To help facilitate health and safety each space, faculty and staff members have volunteered to help supervise and facilitate the time. The presence of an adult helps ensure that best health and safety practices are being adhered to, but also that students who are a little more shy or nervous about joining in have someone to help them integrate into the fun. "People have volunteered from across the school. They responded so generously," Essex said.
More than anything, the goal is to have kids remember what it's like to be kids. To play, be outside, get some fresh air, and practice being around other kids again. The first day was so successful that more spaces were added for students to hang out in. Although the year is coming to a close, it feels like a whole new beginning to the year and beyond for the students.