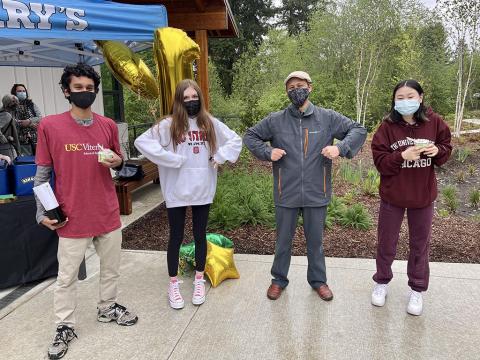 What do you get when you mix ice cream, rain, and Seniors wearing college sweatshirts? At Overlake, it's our annual college decision day celebration!
This year's gathering, although physically distanced, seemed to have much more relevance to the Class of 2021. With most of the year spent remote learning, it was a great opportunity for students and teachers to reconnect in person.
For a lot of Seniors, the return to Overlake on their last week on campus brings a sense of normalcy.  "National college signing day marks a milestone, but for this particular class it offered the important opportunity to gather again to celebrate that final week of togetherness," says Director of College Counseling's Kate Asgari. "It's an exclamation mark about their ability to move through a hard and difficult chapter without missing a beat. If you look at all those sweatshirts, they're a perfect fit for each individual."
The students also heard from Teacher Dave Parsons as he outlined how the students will present this year's Senior Projects. Seniors will be off campus from May 10 to June 4 in a capstone project which will be presented to the Overlake community beginning on June 8.  Students will present their projects via Zoom, and we'll share links later this month on how you can join in supporting our Class of 2021.
Click here to see a slideshow of this year's College Decision Day.