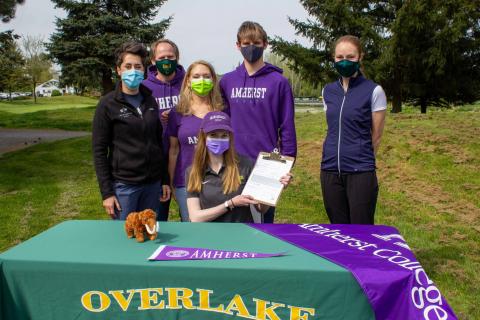 Flanked by family, coaches, and teammates, Senior Ivy H. ('21) shared her college decision on Wednesday.
Ivy will attend Amherst College and be a member of the their NCAA Women's Golf Program. "It was the easiest decision ever," says Ivy who has made multiple appearances as a golfer at the state tournament. "As soon as I visited Amherst I knew it was the place for me. It's a lot like Overlake where you get to know your professors really well, and I fell in love with the people, the campus, and the golf team."
Although the pandemic canceled competition last year, her final season as an Overlake golfer this spring has been an escape for her, and she encourages people to get out on the course to get an activity that is safe, healthy, and provides clarity. 
Coach Erin Maneth has been at Ivy's side since she was ten years old. She's seen the development in Ivy's game and knows Amherst is not only gaining a stellar golfer, but also a great person. "Overlake golf has grown in players and success because they see how much fun Ivy has out here. It makes it extra special that her teammates are here to support and celebrate Ivy. I love that she was a multi-sport athlete and believe it assisted her in getting to this point."
Click here to watch a short video of Wednesday's announcement. 
Go Owls!