Empowering Students to Create Change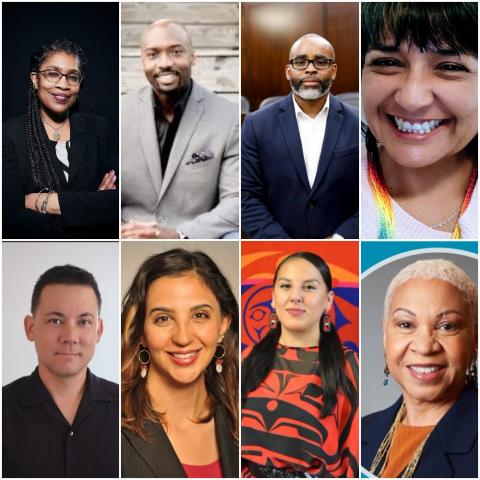 The department of Diversity and Inclusion has not let the pandemic deter them from moving forward with their mission this year. Led by Mahtab Mahmoodzadeh, Director of Diversity and Inclusion, the team is using lessons learned during the pandemic to help students dig into hard questions and conversations. "We're living in a shift in our national consciousness around race," she said. "COVID has taught us that the notion that things don't belong to me or don't have anything to do with me, no longer applies."
Two major series have been going all year to help encourage community engagement. The first is the Diversity Speaker series open to students, alumni, families, and the Overlake community at large. Overlake joined together with other schools to help bring speakers virtually to our community that a single school would often not be able to afford to host. While the focus is students, these events are open to our community and held after school hours to facilitate adult attendance. There are only two more speakers in this series this year so be sure to not miss out on the opportunity to hear the final two guests. Register here to get the link to hear Tiq Milan on March 24 and then be sure to keep an eye on your email to register to hear Ijeoma Olou who will be speaking in May.
In addition to the Diversity Speaker Series, the Office of Diversity and Inclusion is providing student programming at both Middle and Upper School level to deepen engagement for our student community and also involves students as moderators for those engaging presenters. Programming has expanded and the pandemic is partially to thank for that. With the age of virtual events, speakers can come to Overlake without travel expenses and associated time constraints. On the flip side, students and teachers can more easily virtually attend a speaker by dialing into a zoom meeting or catch a recording.
Much of the programming has been around empowering students to make a difference in learning what it means to be engaged in learning about issues of justice and equity in their local, national, and global world. They want to give them a part to play so they can take action right where they are. Mahmoodzadeh commented, "Kids are not just passive vessels waiting to be filled. They have agency. They have capacity to play a part."
There were several reasons for the boost in DEI programming this year and nearly all were a result of listening to feedback from our community. Overlake alumni have expressed a desire for a clearer stance on anti-racism from the school, students have asked for more explicit education around anti-racist development, plus, all of this feedback aligns with the school's diversity strategic plan-especially around curriculum and pedagogy with the goal of graduating culturally competent students.
Currently, there is DEI programming on Thursdays a few times each month where the speakers and presenters have ranged from students, to guest speakers, to alums. Recently the Eastside Change Coalition, led by Overlake alumni, spoke to students about ways they can get involved using the skills and strengths they have.
Whenever guest speakers are brought in, Mahmoodzadeh always has students introduce the speaker and moderate the sessions. This kind of leadership not only empowers the student and their peers but has also been noticed by guest speakers. "When speakers come into this community and engage on these issues, they leave with an impression of Overlake, and this level of student involvement has made a huge impression on the speakers" Mahmoodzadeh noted.
One of the most rewarding parts of any of these programs has been seeing real change and action stirring as a result of the efforts. After one guest speaker, a group of Middle School students approached Mahmoodzadeh about starting an affinity space for women of color and have begun to get connected to each other in that space. "Those are all natural results. They hear something and it ignites something in them and makes them want to do something," she said.  
The Middle School Impact JEDI club, has been a particularly enjoyable part of the year for Mahmoodzadeh to witness. This group of Middle School students research social issues and hosts "JEDI warrior trainings" where they model having conversations around issues that impact the world. "They are amazing and so fun! That's how you shift culture," Madmoodzadeh said. Teachers have even started attending the JEDI training sessions led entirely by Middle School students, "Talk about flipping the script! They have really been a powerful force."
Not knowing what next year will look like makes planning challenging but the office of Diversity and Inclusion is excited to capitalize on the momentum of this year and make plans looking ahead to what is possible for next year and beyond.