Middle School Sports Update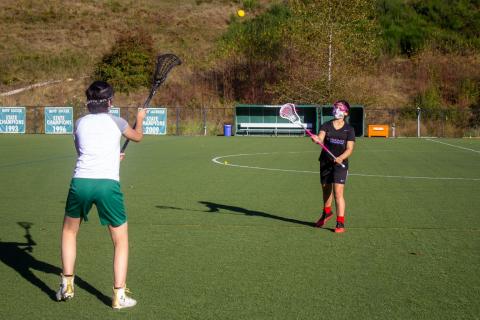 There has been a lot of information coming out lately from the governor's office, the WIAA, and local media outlets with regards to the resumption of education-based athletics in the state of Washington.  For that reason, we talked with Middle School Athletic Director, Mike Fine for an update on how this all relates to our Middle School sports programs at Overlake and try to answer some common questions we have received. 
When will Middle School sports begin?
Overlake Middle School sports offerings will not begin until after Mid-Winter Break at the earliest (February 22 or later). You may have heard or read about other dates such as February 1st or February 15th as the start dates for school sports. These dates are related only to Overlake Upper School sports. If you have any questions on US athletics, please contact John Wiley at jwiley@overlake.org.
What sports will be offered?
I am working with other members of the athletics staff, our coaches, and others on campus to make this decision. At this time, I don't know which sports are going to be offered or the sequence, but I know the first sports offered are going to be based on activities we can safely do outside.
What are MS sports going to look like this spring?
I envision the sports activities being offered are going to be similar in appearance and structure to what we had in the fall - one or two sessions per week with a focus on skill-building and small-sided play. When we start, students will continue to be grouped into green and gold cohorts, to ensure we are following safety guidelines.
What is happening with other schools similar to Overlake?
All of the other schools we regularly compete against in our local Middle School league are in the same situation. There are some that intend to have athletic offerings as we will, others that are planning virtual workouts, and some who are not offering anything this spring. There is no plan by any of the league schools to have interscholastic competitions at this time.
What about a non-league spring sport like lacrosse?
Overlake has a long tradition of playing lacrosse, but we will not be fielding traditional teams this spring as we have in the past. Boys and girls lacrosse players wishing to play a traditional season, do have the option to play for their local lacrosse club, for this spring only. If you need assistance identifying your local lacrosse club, please let me know. I do anticipate lacrosse being one of the sports we do offer on campus this spring.
How am I going to know what sports offerings are going to happen and when?
Once a schedule is developed, I will be sending out another announcement with sports offerings and schedules and a survey to gather preferences and availability. We are still working through the logistics of coach availability, facility availability, cohorts, Upper School schedules, Regional COVID-19 restrictions, transportation, etc. I hope to have this out to families in the coming weeks.
I appreciate your support and understanding as we all try to solve this jigsaw puzzle. I will provide more updates as the plans solidify and we have more clarity.