Maintenance Team Prepares Campus for Overlakers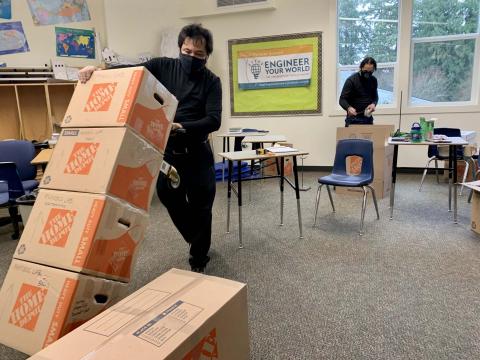 When it was announced last week that students would slowly be returning to Overlake's campus, the Maintenance Team knew that they were up against the clock. Then Tuesday night's wind storm changed their game plan...albeit slightly.
They arrived to work to find downed trees, debris, and even some minor damage. By day's end, it was all cleaned up, and they returned to the task at hand...getting classrooms ready for the return of students! Despite the hiccup, Maintenance Director Lance Delay says he's never experienced a year like this in his more than two decades in education. "A large part of our time has been working at the Math & Sciences Center with us putting in the landscaping around the construction site," explains Delay. "But most of our work has been getting every single building on our campus ready with PPE (personal protective equipment). Just think of how much we've learned about COVID-19 protection since March. So much has changed, and we've been at the forefront of getting Overlake properly equipped."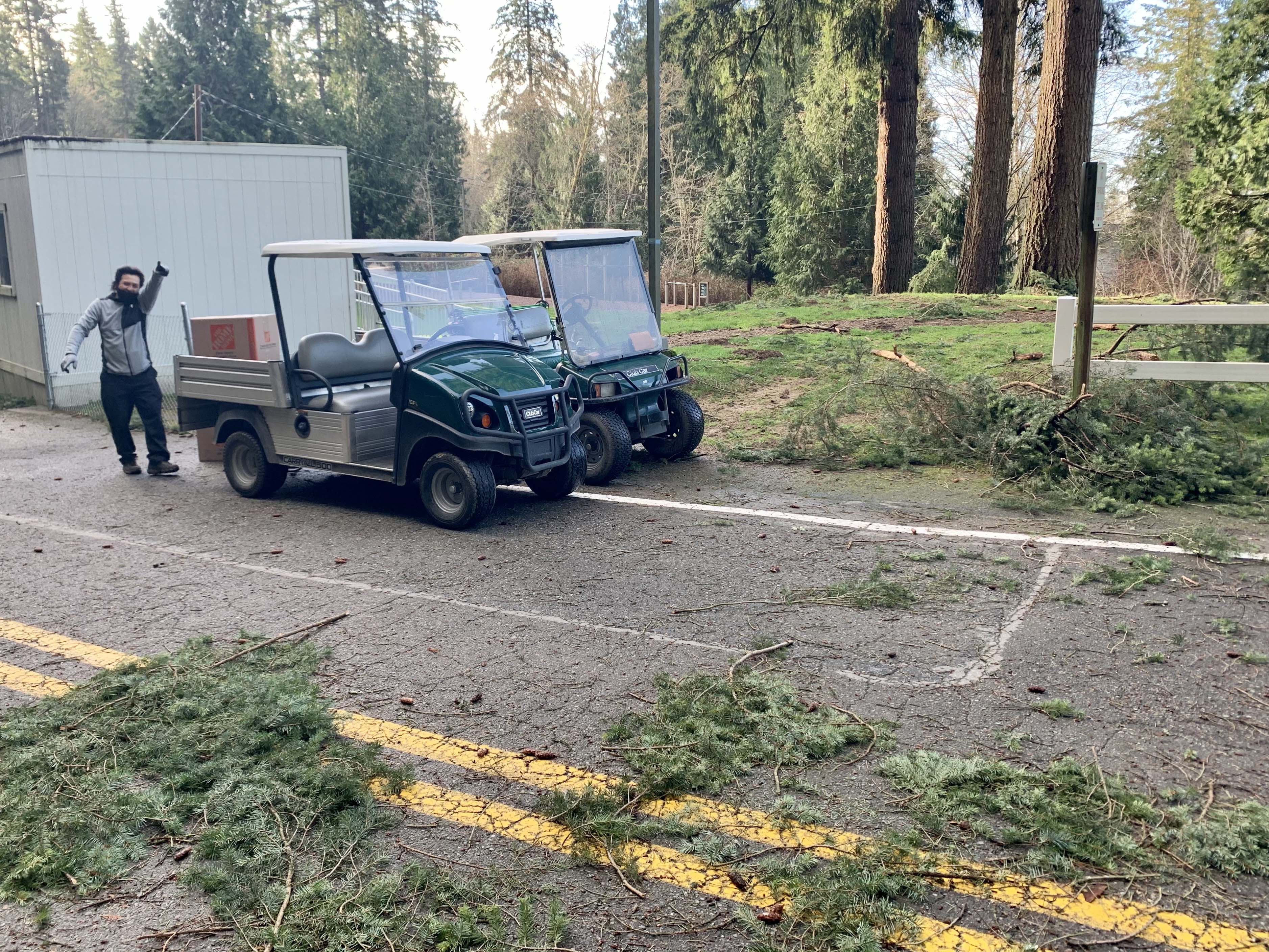 The overnight storm leaves behind a mess of branches, overturned containers, and downed trees
It's also meant putting signage around campus, marking floors with directional tape, altering water fountains to only allow bottles to be filled, and shutting down plumbing and water facets to maintain physical distancing. "Months ago we purchased sanitizing machines which were put to use for gym activities and now we use for our tools. Later, we added hand-held misting machines which we've been utilizing everyday in the classrooms even when campus is closed so that we could get used to a rotation where all the spaces will be disinfected and sanitized on a regular basis," says Delay. "We're creating a rotation so that we'll be able to go into spaces between classes to insure that it's safe, not only through CDC guidelines, but also what's come from our Health and Safety Committee."
Delay adds that Overlake's commitment to safety is unsurpassed, and he's gotten inquiries from other schools who have heard about some of our purchases and protocols. "Warren (Business Manager Warren Gilles) has spent so much time, effort, and resources to make sure that our kids, faculty, staff, and guests are protected. Whether it's a variety of shields, masks, sanitizers and specialized disinfectants specifically for chairs, tables, desks, Overlake is making sure that every high touch point is effective," says Delay. 
His team has even changed the flooring in the Parent Center and have been stockpiling months of supplies to assure there are no shortages. Lots of that facilities knowledge comes from research that Delay says he's done along with Health Director Samantha Hillyer's knowledge.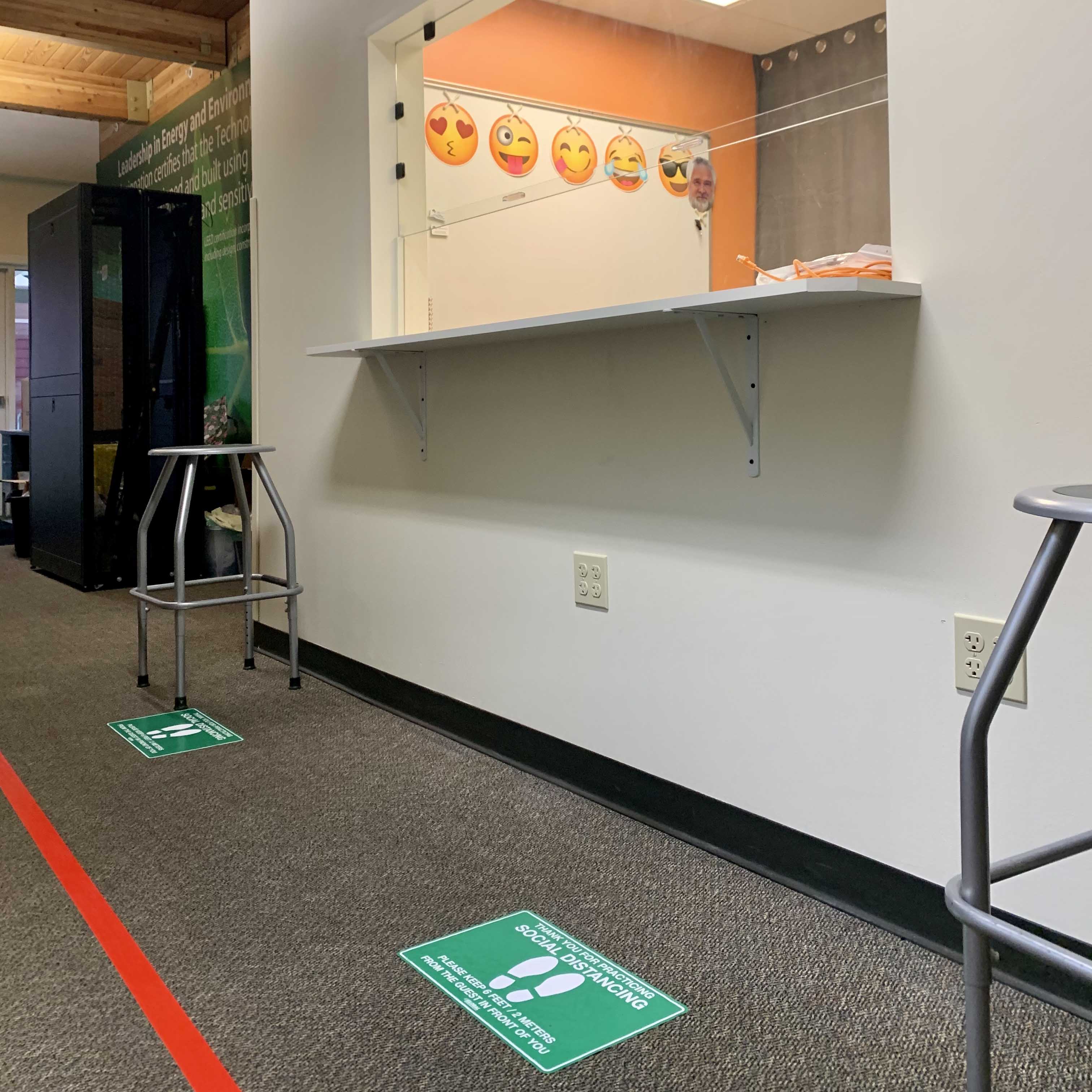 A new help desk welcomes students who have technology needs
In addition to redoing COVID-19 procedures, the Maintenance team has also worked to remove portables and their contents. Parking stops have been reinstalled. The team has also dealt with a variety of vendors, not only for Math & Sciences construction, but also repairs and updates around campus, like the Technology Help Center where a physically distant help window has been built. With a 75-acre campus, landscaping seems like an endless chore, but Maintenance has also completed several projects on their "to do" list, including new landscaping around new septic system areas, landscaping adjacent to the 5th/6th Building, as well as down by the lower drop off area.
Students will also notice huge changes to the Library where the center help desk has been removed to allow for premium spacing and the Campus Center where tables and chairs needed to be removed. Plexiglass has been installed for faculty and staff who are in high contact areas. A portable has been transformed from a classroom to a health center with several beds and health stations.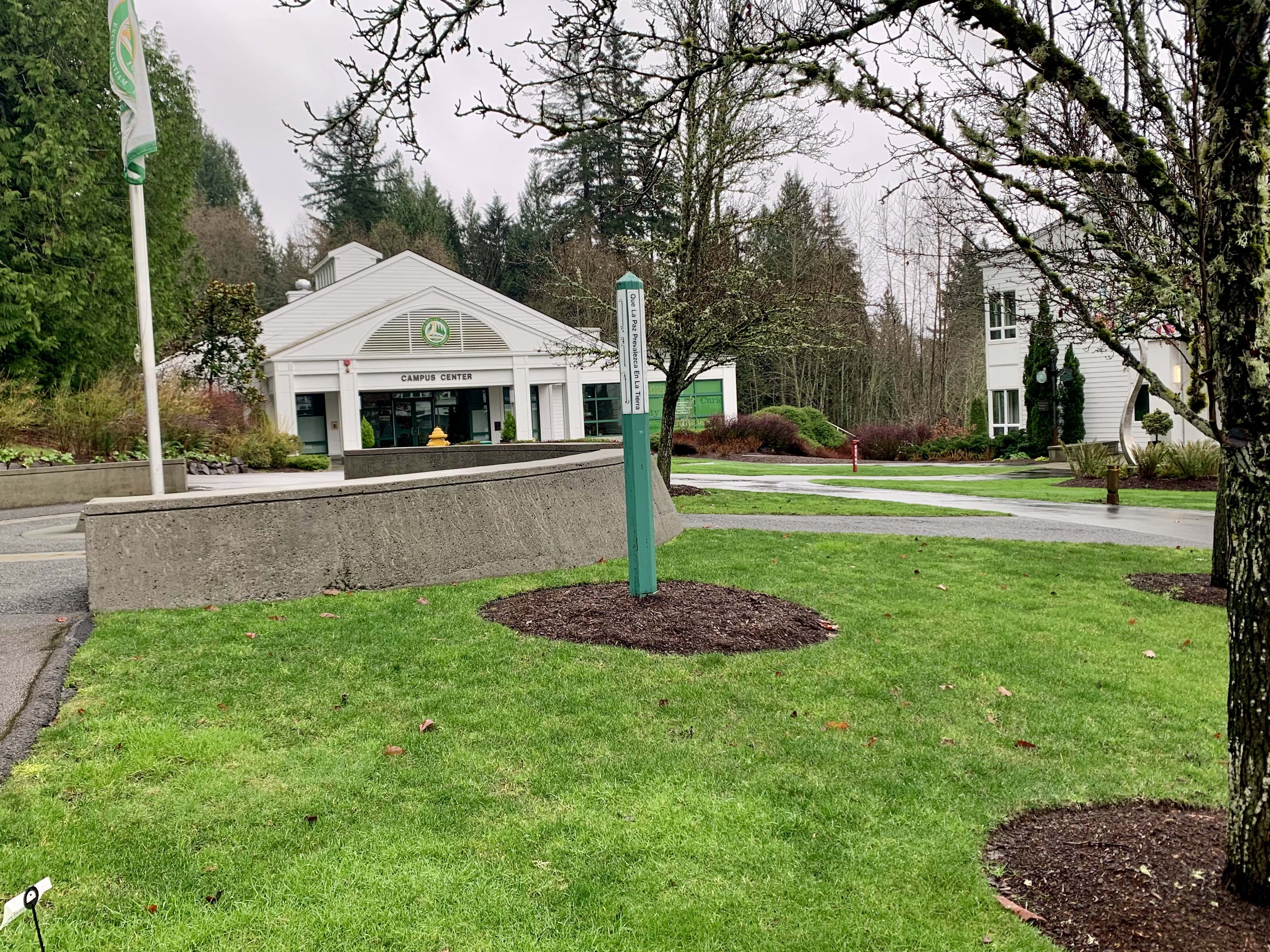 Landscaping Overlake's 75-acre campus is no easy task, but Maintenance makes sure we have a beautiful green campus
However, Delay says it's not a task he's most proud of but rather his team who has worked tirelessly through the pandemic. "They show up every day, get their health screenings, and tackle their assignments. They told me early on that they wanted to lean in and be a part of something special. Ben and Jun Castro work around the clock to make this return possible. Michael Atherton's work on asphalt and concrete will have an impact for years with parking and transportation. There hasn't been a time where I have to say, 'Get this done' or 'This needs to be by this date.' They've not let me down and I'm so proud of their effort.," says Delay.
So, when you return to Overlake's campus and see a member of the Maintenance team, give them a thumbs up to let them know you also appreciate their work.