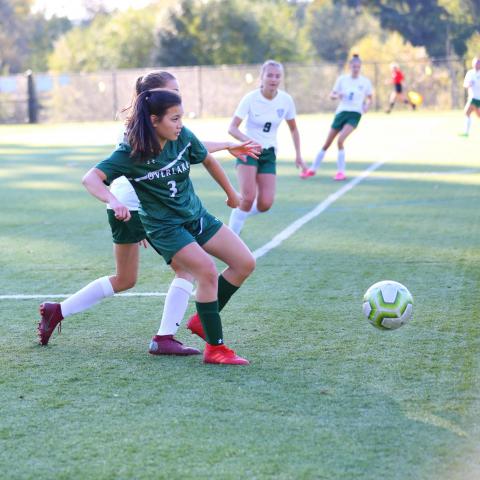 This week there has been lots of news locally on the return of high school sports this school year.
On Wednesday, the Washington Interscholastic Athletic Association released guidelines on a return to competition. You can see details by clicking here. 
What does that mean for Overlake's Athletic Department? "WIAA's executive board has wisely and clearly stated that it's up to each league or district around the state to reschedule seasons to best fit their local community," explains Athletic Director John Wiley. "As part of the Emerald Sound Conference, Overlake is working with thirteen other schools to determine what works best for us."
Immediately after the WIAA's announcement, Wiley met via teleconference with his other Athletic Directors to discuss scheduling fall sports. Overlake Athletics fields girls' soccer, volleyball, boys' golf, boys' tennis, and boys' and girls' cross country. Wiley says that while the WIAA has granted the fall season to begin as early as February 1st, Emerald Sound Conference teams will need additional time as the league spans King, Snohomish, and Island Counties.
He will be meeting with Overlake administrators and our Health and Safety Committee to discuss league proposals and finalize competition. Right now the Emerald Sound Conference believes that a return to play could happen as early as February 15. "This is uncharted territory for us all," explains Wiley. "There are a lot of variables that include transportation and post season play that still have to be figured out. All I know is that it's going to be a busy 21-weeks!"
Wiley adds to expect an announcement next week and urges families to have discussions now about participation. "February 15 is in our mid winter break so I want our Upper School student athletes to know that if they have travel plans that take them outside the state, that they'll have to follow state quarantine protocols," says Wiley. "We want to make it abundantly clear that this is a commitment like no other season in Overlake history."
For now, Wiley anticipates a return to non-required Upper School practices on February 1st that were similar to the ones conducted on campus last fall. He stresses that while the sessions are not mandatory for our student athletes that it'll be a great way for coaches and players to reconnect on fundamentals and skills.
Go Owls!