From the Classroom - Current events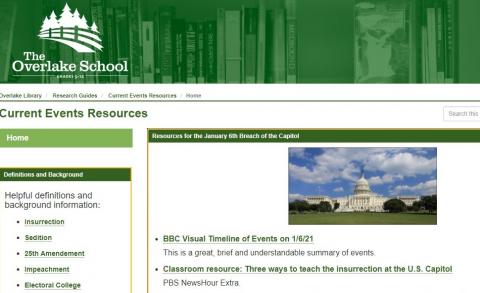 From time to time, things happen outside the classroom that take precedent over the daily class activities. On January 6, the insurrection at the Capitol shocked and saddened the country. Students and faculty alike have wondered how to process the events we witnessed.
Susan Essex, Director of Student Support, along with other faculty and staff members, has been helping facilitate conversations with students. She encouraged faculty to share relevant information and structure conversations around how to help students mentally and emotionally process what is happening.
We have compiled a list of resources to help facilitate conversations with students and families.
Resources from the library.  The Overlake library staff has been compiling a wealth of resources including relevant facts about the events, reputable news sources, helpful definitions, social and emotional processing strategies, as well as teacher resources.
Current Events Teacher Checklist
Podcast about the Georgia runoff election
If you would like to talk more about how you can support your student, email Susan Essex and the Student Support team.