From the Classroom - Laura Triebold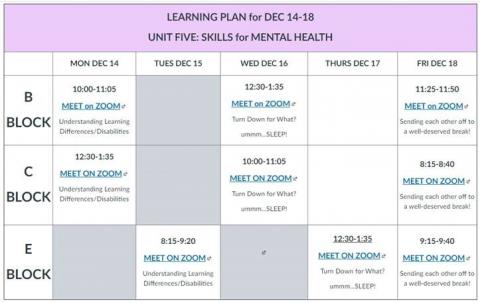 Continuing our From the Classroom highlights, this week we'll look at how Physical Education Faculty member, Laura Triebold has adapted to online learning in her Health and Life Skills classes.
"I don't give much homework outside of class. For Life Skills in particular, I tell students that life assigns homework for me. Right now, students are getting life lessons in time management, self-care, resilience, flexibility, and hope," Triebold says. In a year where students and adults alike are encountering a huge dose of new challenges, this seems especially relevant.
The focus is simplicity and consistency. Each week Triebold posts her learning plan for each class on Canvas. In these easy to follow plans, she includes links to class meetings, resources, and assignments all in one location.
One thing Triebold has kept from in-person instruction is starting each class with a 'mindful moment'. Moments often include a simple yoga pose, gentle stretch, or a moment of reflection. Triebold said, "I suppose some students think it's weird, especially at first, but it's a helpful transition to get us all on the same page before class begins. It becomes a ritual that the students and I count on as a way to rest our bodies, gather our thoughts, check in with ourselves, and practice some simple self-care." 
As the year continues, students have stepped in to lead the moments and have brought their own creativity to the classes by playing a meaningful song or even having the class do an upbeat few minutes of Zumba.
Screen fatigue is an overarching concern this year and Triebold tries to build in breaks during long blocks so students can rest their eyes as well as building in asynchronous time for students to engage in the lessons. In particular, this week she is having students listen to a recorded interview during asynchronous time while encouraging them to walk or stretch while listening.
Whether it be learning about the role sleep plays in health or learning how to support a friend who is struggling, Triebold strives to equip and empower each student, "I regularly provide opportunities to practice emotional awareness, assertive communication, and mindful listening." That's certainly a breath of fresh air this year.