Dreams Become part of New Building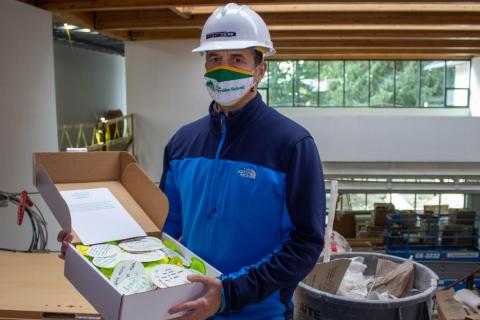 In what seems like a lifetime ago, current Overlake students in Grades 7-12 may recall when in the spring of 2019, the entire student body gathered to celebrate our Doors to Discovery campaign which included a launch for the construction of our new Math & Sciences Center.
With a cup of ice cream in one hand and a pen in another, students wrote their dreams for the facility as well as our future Overlake. Nothing was off limits and some of the responses were pretty interesting. One student responded that they wanted to create an automated pizza maker in the new space. "I'm really curious about the person that wrote that because it's something that's really personal to you," explains Head of School Matt Horvat. "It's that type of thinking and curiosity that this new space will inspire. This student may end up working in automation and will produce something that we may all use one day."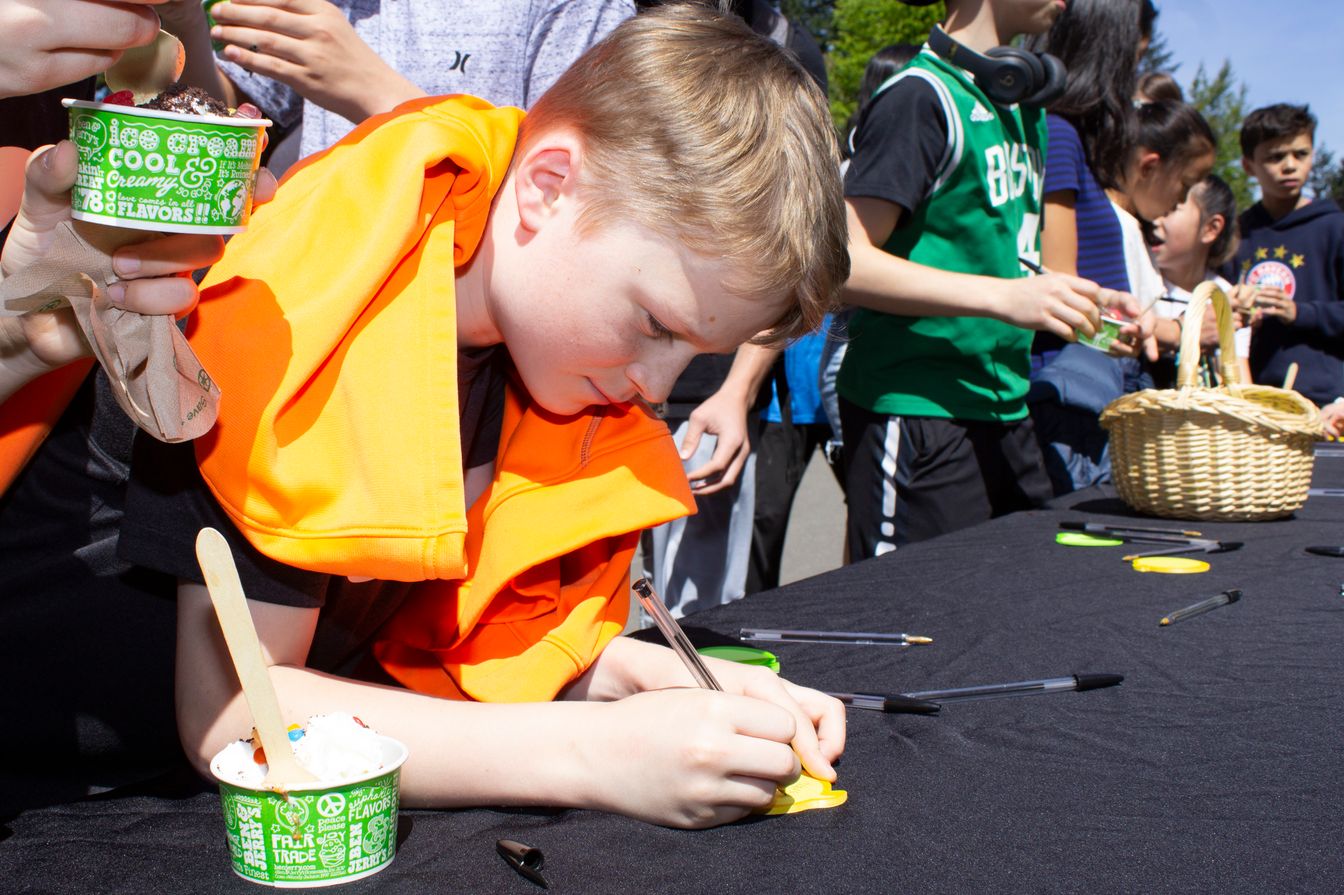 Students write their dreams for Overlake on notecards during a May 2019 celebration
Construction on Overlake's new Math & Sciences Center has been non-stop since demolition of the old building began in June of 2019. 
Although crews were forced to stop work early on in the COVID-19 pandemic, they returned this summer to began the final phase of interior construction. As workers finalize closing in the walls, those hundreds of dreams were boxed up and placed within a wall. 
While the placement of the dreams was always part of Overlake's plan, the time was scheduled to change. It became quickly apparent that the time to act was now because carpenters were making fast progress. "Most of the people working on the building are working inside, so if you happen upon the campus you won't see them," says Horvat. "In just the last week, I've seen cabinets, doors, drying racks, and wash stations installed in most of the classrooms. In just the last four or five days, it's changed quite a bit, and I bet if you came in here four or five days from now, you'd notice even more. It's happening really quickly."
SeaCon is the construction company developing the new Math & Sciences Center. As the project moves from the blueprints to real life, even seasoned contractors are impressed. "There are four areas that students will want to notice," explains Connor Biggs who is the project superintendent. "High ceilings – studies show high ceilings promote creativity, improve memory recall and help to apply abstract thinking to problem solving. Open floor plan – upon entering the building upstairs you can immediately tell if your teacher is in their office or what classes are in session. Natural light – skylights, large windows, and white paint help flood the majority of the building with natural light. Natural light increases productivity and has been shown to improve sleep. Storage – there are upper and lower cabinets in the southern classrooms providing ample storage for learning materials."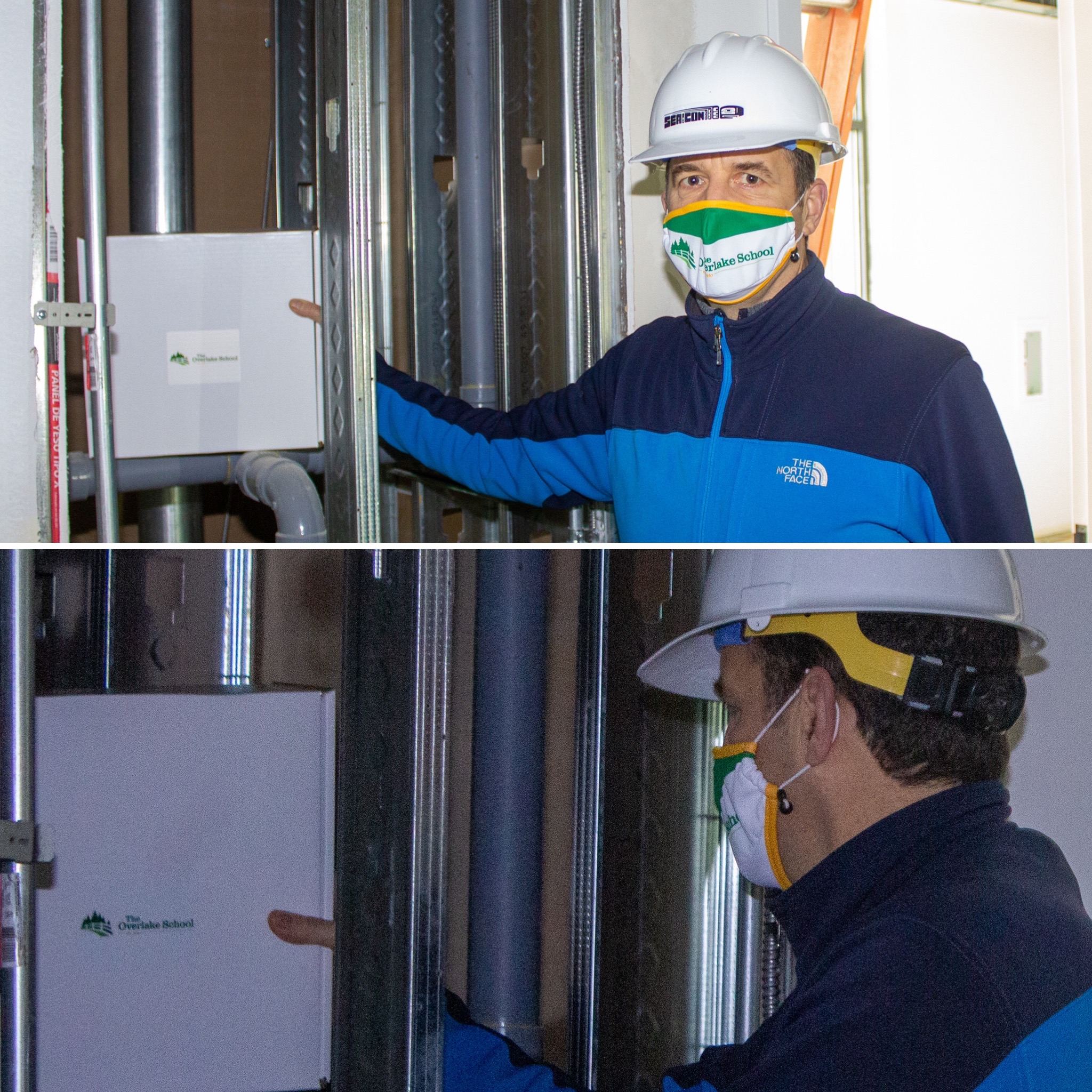 With the sound of construction in the background, Matt places Overlake's Dreams for Discovery notes inside a laboratory wall
That's why the decision was made with little fanfare to install the Dreams for Discovery notes before crews finished up their drywall and painting work. In a plain white box that resembles a cake box, the hundreds of student, faculty, and staff dreams will be encased for decades. As a literary time capsule, the hope is that one day they'll be discovered by similar students filled with that curiosity and ambition. 
But first, it's time for our current students to move into the building as soon as it's safe to do so and begin that process of learning. Click here for a short video tour.