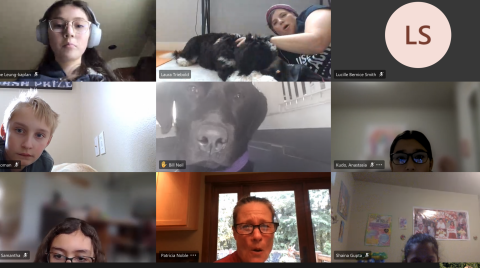 When the pandemic struck last spring, it threw everyone into sudden change. The school day also changed. But now, since Overlake Online has become the new, temporary normal school day for students, administrators wanted to make sure this year felt as close to what used to be an Overlake school day as possible. One way to do that, bring back Club time for the students.
Both Middle and Upper School students are in clubs this year, meeting several days each school week. We caught up with a few that are helping to build community despite their virtual status.
Middle School Pet Care Club
Under the adult leadership of Connor Middleton, Bill Neil, Patricia Noble and Laura Triebold, students and a "special guest" are part of the club. Those "guests" are actually the main attraction of the club, as the students and adults bring their pets to the virtual club times. 
For fifth-grader, Allen H., getting a chance to spend with his dog, Barry, is a huge lift to his school day. "I signed up for Pet Care Club because I love my dog and thought it would be a good idea to be in a club that has people who like pets and animals. I enjoy doing Kahoot trivia games and being with people and taking a break from school and playing with my dog."
Seventh-grader, Shaina G. owns several birds. She also enjoys the trivia games the club plays. "I love animals and I have enjoyed learning some tips and tricks for animals and doing animal -themed Kahoots."
"I think a benefit for our students is that pets (dogs, birds, cats, etc.) can be a comforting resource during these COVID times," explains Bill Neil. "Pets can provide us company, non-judgmental emotional support, and comfort in the face of social isolation. The club brings us together sharing stories, and pet tips, as a small distraction from our classes and work."
"Every kid in our club shares a heartfelt attachment to his/her pet(s)," explains Patricia Noble. "We have an array, from birds to a rabbit and a horse, but mostly dogs. Connecting with the Pet Club brings a shared experience and love for our family members. We exchange stories, our challenges (car protocol) and successes (roll over!), and enjoy the community we are building."
Eighth-grader, Emily L-K agrees. "I enjoy my time in the Club for many reasons, but especially appreciation. All of us have been so lucky to stay safe during the pandemic, and this club teaches us to be grateful for what we have and who we have." 
Middle School Minecraft Club
One popular new club is the Minecraft club led by Michael Krumbholz. It meets synchronously via zoom and everyone can play Minecraft while interacting with one another. Krumbholz likes the endless creative possibilities Minecraft presents while working in a virtual setting. Sometimes students get to break into teams and compete in competitions like 'see which team can collect the most diamonds in a limited timeframe.' This allows students to team up, work together, and strategize utilizing the Zoom breakout rooms feature. Other times, students spend club time creating their own worlds from their own imagination and then have the club members virtually tour their environment.
Krumbholz noted that the virtual environment is actually perfect for Minecraft club since if the club met in person they would have to physically move to different rooms to strategize as small teams, but with the breakout room feature of Zoom it works perfectly.
"It doesn't matter whether you're virtual or in person, middle schoolers are still a lot of fun," Krumbholz said.
Middle School Fantasy Football Club
The Fantasy Football club was started by Mike Hufstader and transitioned to a virtual format this year. "I started fantasy football club to share my passion for fantasy sports. It's a fun way for kids to stay connected and have a common experience to talk about," Hufstader said.
Hufstader has been pleased to see the students adapt to the online format smoothly without much issue. While meeting virtually, students are still having fun talking with friends about their picks and trades while enjoying the world of fantasy football.
"Each day all the club members are talking about fantasy football, trying to trade players and talk some trash in an appropriate and respectful way of course," Hufstader said. With many in person sports postponed it provides a fun way for students to still follow sports with like-minded students. Many of the students have enjoyed changing their Zoom backdrop to show off their pride for their favorite team. 
Upper School Environmental Club
Election Day is less than two weeks away, and Overlake's Environmental Club is encouraging voters to support Green Energy and Climate Change policies.
The club has spent its time by text banking registered voters, not only locally, but also nationally. Their purpose is to encourage voter turnout rather than endorse candidates. "Text banking is when you have a list of names and phone numbers of voters who are interested in a variety of environment causes," explains Tej S. ('21). "Our most recent text banking was from a Greenpeace list of voters in Pennsylvania and we sent out over 15-thousand texts and received a couple hundred replies. That's a testament as to what we've been able to do even despite the pandemic."
A 2018 Time Magazine article cites how text banking increases voters turnout which in today's election cycle could be the defining difference between a candidate winning or losing.
"Our work in particular as a club is very reliant on the social dynamic of politics and the environment. The pandemic has obviously exacerbated that and led us with clarity on how severe the impacts would be of a climate crisis.," says Riya S. ('22). Click here to listen to a climate change podcast about the importance of voting.
Environmental Club's more than two dozen members plan to pivot after the election to research a guide for Overlake's community.
Upper School DECA
In the four short years that DECA has existed at Overlake, it's quickly grown to be the largest Upper School Club.
DECA is a national student leadership organization with thousands of members and chapters in every state and past Overlake participants have participated in state and national competitions.
With 43 members taking part this year, the team is preparing for online simulations in areas of business, management, marketing, entrepreneurship and finance. "The students pretty much prepare for events by themselves, although the club student leaders and I are providing guidance and practice," explains Club Advisor Dave Parsons. "And while it is great to do well in competition, what is most important is the exposure to what DECA calls essential '21st Century Skills'- being able to converse with adult judges, making decisions, organizing effective presentations, thinking critically, and seeking creative solutions."
With all events online, Parsons is looking to Overlake adults to help. Because of DECA's success, Overlake will likely be hosting an event, and there will be a need for judges. The commitment is only a few hours. "As a judge you'd  be looking at how students approach and communicate about situations, along with demonstrating some technical expertise," says Parsons. "This year judges will not be able to meet students face to face so students will be given simulations to react to and communicate their thoughts in a recording, which will then be shared with the judges."
Contact Dave via e-mail at dparsons@overlake.org  if you're an interested adult who would like to share your expertise with our community.