US Speech and Debate Looks to Dominate Virtually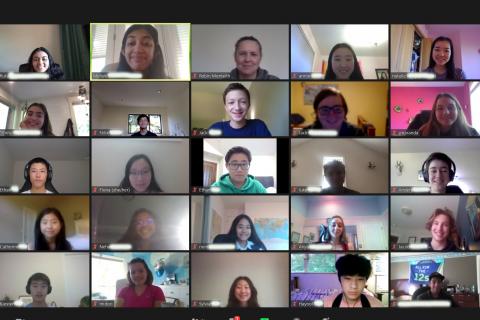 Overlake's Upper School Speech and Debate team is back, and it's bigger and better than ever! The team practices every Tuesday, Thursday, and Friday and is off to a strong start with 43-members. Their first competition is this weekend against Bear Creek and it will be virtual. 
Practices are happening just like distance learning for school. Each student has chosen their specific speech and debate events and all are working hard to get ready for tournaments. "We meet on Zoom three times a week and then go to breakout rooms with both me and experienced speech and debate students teaching small groups," explains Coach Robin Monteith. "Students participate in fun drills and games to improve their skills, learn how to do research, and write cases for resolutions they will be debating this fall. They also present their speeches and get feedback."
Although the students practice online, the team still finds plenty of time for joking around and bonding. "Speech and debate is a hugely impactful activity. It teaches writing skills, clarity of thought, research, and most importantly, confidence," says Senior Mehek G. "In both a global pandemic and an election year, I think it is highly necessary for students to continue to participate in   community activities outside of school. This past year has been extremely isolating for all of us. We are extremely fortunate that we were able to move online easily and offer students an after-school activity that connects them with their classmates,  teaches them to be well-informed on current events, and is just generally a lot of fun!"
Speech and Debate will have a full tournament season online. Over the course of ten tournaments, members will have many chances to earn some trophies, and even win spots at national and statewide competitions. Although the competition is online, Overlake's team looks to the positive with this year's virtual model. "Nothing beats the experience of competing in person, but in times like these, it's great to have a viable substitute for our tournaments," says Senior Captain Ruta R.  "The online tournaments have been able to make speech and debate really accessible to us and now can compete anywhere in the country without leaving home!"
If you want to learn valuable writing, research, and speaking skills while having a great time, consider joining speech and debate. It's not too late to join! If you're interested, email Coach Robin Monteith or/and Captain Ruta R. ('21) .