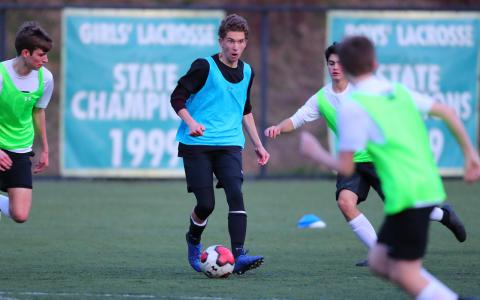 What's the tie between soccer and COVID-19 personal protective equipment? For Overlake student Will D. ('21) it's Juggles for Justice.
Soccer juggling is a skill where a player keeps the ball aloft by kicking with their head, chest, thighs or feet. With no shortage of Overlake soccer players, Will came up with a brilliant idea. "I tried to think of a way to help in the fight against COVID-19 that would also incorporate the movement for racial justice in America. One day, I was juggling a soccer ball, and it dawned on me that I could use juggling and the popularity of soccer to raise money to combat the most pressing issues of our time," says the Overlake Varsity soccer player. "I brainstormed ideas for how to carry out this fundraiser, and realized that it could, in essence, be a walk-a-thon of sorts: participants pledge a certain amount per juggle, and then juggle for as long as they can."
Settling on the name of the fundraiser as "Juggles for Justice" because it highlights the intersectionality between COVID-19 and racial injustice and how we can take on both simultaneously. He has teamed up with Get Us PPE, which is a non-profit organization that purchases and distributes personal protective equipment (PPE) to healthcare workers in economically disadvantaged areas hit hardest by the pandemic. 
Soon his teammates, coaches, fans, and soccer alumni started to join the cause. However, he wanted it to reach more people and challenged non-soccer players to participate. "If you don't have a soccer ball, use a basketball. If you can only do 2 juggles, that's okay!  All you have to do is pledge a greater amount per juggle. While soccer players might only pledge a few cents per juggle, non-soccer players can donate a dollar or so per juggle," explains Will. " While this fundraiser does involve soccer, the primary goal is to help disadvantaged communities survive the pandemic, which is why you should donate, even if you do not play soccer."
Will even created a video to promote Juggles for Justice. Now with the deadline for the Overlake event fast approaching, he's hoping that those interested in donating will do so through his GoFundMe site where ball handling isn't a prerequisite. He's also working with other local organizations including soccer clubs to also create Juggles for Justice events. "At the end of the day, I want to do whatever I can for my community, my country, and the world during this once in a lifetime crisis.  Years from now, people will ask all of us, "What did you do during the coronavirus pandemic?" Juggles for Justice is our opportunity to make a positive impact in these challenging times," explains Will. 
We'll keep you updated as to how much Juggles for Justice raises, and remember, if you see an Overlaker juggling a soccer ball this week, don't interrupt them. They could be raising money for an important cause.