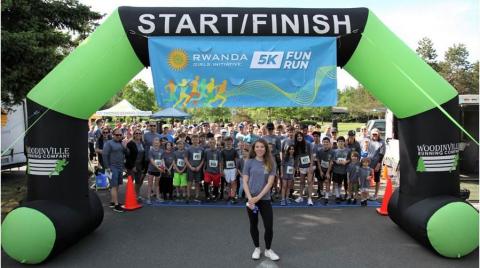 Even though Covid-19 has halted large in person events for the time being, junior Sophie S. didn't let that stop her from charging forward and making a difference in the world.
Two years ago, Sophie helped lead the inaugural Rwanda Girls Initiative 5k Fun Run. It started as a school project in eighth grade where she had to do a presentation on something she was passionate about. In May of 2017, she had visited Rwanda and met the students at the Gashora Girls Academy. "When I got home, I knew I wanted to do something. I decided I would combine my passion for running with my passion for women's education." In the two years since the inception of the race, she has raised over $55,000 for the Rwanda Girls Initiative.  
Since her trip to Rwanda, Sophie views her own education in an entirely new light. "The girls at Gashora Girls Academy are so passionate and their determination is unmatched. When I got back home I realized how lucky I am to be able take my education for granted." Since then, she has been determined to help.
This year's race was supposed to occur in May but had to be reimagined due to Covid-19. Sophie took on the challenge to convert the race to a virtual event. However, instead of keeping it as a 5k race, she changed the name to RGI "Run to Rwanda" Virtual Fun Run and shifted the goal to have participants run or walk as many miles as they are able to and get to a collective goal of 8,862 total miles, the distance from Washington State to Rwanda.
Participants can log their miles walked or ran to count towards the goal here. Due to smoke-filled air in Washington, the deadline to log your miles has been extended by one week, so there's still time to log your miles before September 27th and participate in the event. Learn more and log your own miles here.