Spy School author visits Overlake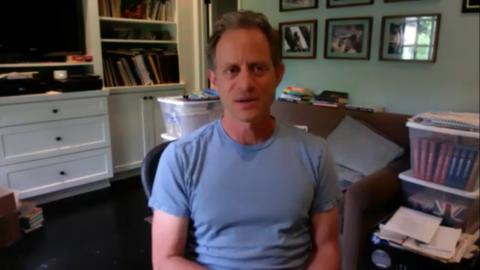 Ever wanted to ask the author of your favorite book why a book ended the way it did or how they came up with that idea? Our Middle School students had that opportunity to virtually hang out with a popular author. Stuart Gibbs, author of books like Spy School and FunJungle chatted with students via zoom this week.
Librarians Rebecca Moore and Kelly Vikstrom-Hoyt hosted the meeting which was moderated by Lucy D. ('26). Gibbs is one of Lucy's favorite authors and she had the opportunity to introduce the author and ask questions students had submitted prior to the meeting. Students were also able to ask questions directly to the author during the meeting.
Many students wanted to know how Gibbs came up with his ideas for his books. Gibbs shared a few stories about his inspiration. For his Spy School series, he said that came up with the original idea in middle school after he saw his first James Bond movie and was finally able to do it justice and publish it as an adult. The author also shared about his experience going to the zoo with his family and eventually working at a zoo in college and how that inspired him to write FunJungle.
As an environmentalist, Gibbs loves how he can weave environmental issues into a story and bring attention to them in an accessible way. He also raises money for many environmental organizations through his virtual school visits by asking for a donation in lieu of a speaker's fee. Overlake donated to the Nature Conservancy in exchange for the virtual visit. One student wanted to know if Gibbs would consider writing a book featuring Covid-19. "It's tricky. I like to write things that feel like they could have been written at any time. I don't want to deny important events in our lives but it can also make a book feel dated. Also a book may take two years and the world could change a lot by then if I focused on current events," Gibbs said,
Several students wanted advice on their own writing journeys. What genre to write, how to deal with writer's block, and any other advice he might have for young authors. Gibbs encouraged the students to keep at it and explore what they like. "You can try writing as a kid and see if you like it. You can't try surgery and see if you like it. You get rejected a lot (as an author) and that stinks. But if every author quit after getting rejected you wouldn't have any books in your libraries," Gibbs said.
Students can watch the replay of the whole conversation here.