Redesigning a Summer Camp Experience Amid a Pandemic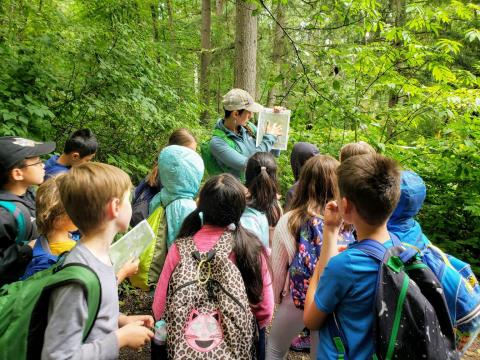 Redesigning a summer camp program during a global pandemic is no small task, and yet that's exactly what Nate Edmunds and Jen Pan have been doing this spring at Overlake. Edmunds and Pan are the directors of Overlake's robust summer program. This year the two are committed to continuing the summer experience for students albeit in a different manner.
"We have canceled on-campus camps through July 3," explains Edmunds. "However, I'm excited that we can offer virtual camps with supply kits those weeks."
The kits will contain materials that families pick up the first morning of camp. Each day the camper will meet virtually with the faculty who will assist and instruct the students in achieving results. The campers will have the ability to virtually share among their fellow campers their results.
"Our teachers are incredible—over the last two weeks they designed almost 30 new camps to make this new concept a reality," explains Pan.
Creating a camp-like feel away from the Overlake campus during the summer is the challenge Edmunds and Pan have been working on since the pandemic began. "I'd say the core of our program is in the actual content of each camp plus the quality instruction our teachers will provide. I would be lying if I said it would feel the same—it will not. But what will remain consistent is having a great teacher who loves working with kids and supporting their learning throughout the week," says Edmunds.
As we move through the summer months, Pan and Edmunds are hopeful that the remaining camps will be able to be held in person on the Overlake campus. "We are still planning to run camps on campus July 6-31, but we have made significant changes to how camps will operate," explains Pan. "We are closely monitoring CDC recommendations to outline safety protocols and training procedures for our teachers and counselors. If it turns out we cannot run camps then, we'll pivot to virtual camps for those weeks too."
In the remaining weeks of school Edmunds and Pan will continue to monitor guidelines from local and state public officials to determine the fate of the camps in July, but they recommend interested families to visit the updated information found on the summer program website at overlake.org/summer.
"Right now, we're focused on two things: The virtual camps that start in June and the safety procedures and training for our camps in July. Our overarching themes are safety and flexibility. There's no blueprint for this, but we're trying to do the best we can," explains Edmunds.