Providing Technology Wisdom to our Community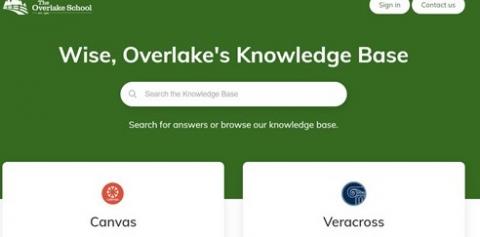 Getting answers to an Overlake tech question is now as simple as going to a single website- wise.overlake.org.
The Overlake technology department has developed the Wise Knowledge Base at https://wise.overlake.org. It's an online resource for our community to use when they have a tech question, like how do I get on Microsoft Teams? "It has always been our mission to support learning, whether in the classroom, in your office, or at home – so providing our community with the resources to help themselves is really important."
The idea of a knowledge base stemmed from an increased need for fast help during our COVID-19 campus closure, though the goal of sharing knowledge has always been important to the tech team, pandemic or not. "During this period of increased technology dependency and utilization, we were sharing more training articles and videos than ever before, so we reprioritized and built a one-stop-shop for all things tech knowledge," explains Sharon Johnson.
The knowledge base is broken into various sections based on platform, such as Canvas, Veracross, Microsoft, with articles related to each area. The site also has the ability to search using keywords or phrases to help users find the information they need.
The technology team is constantly adding new articles and resources on the page so the knowledge base will continue to grow. "If you don't find what you are looking for, please let a member of the tech team know and we'd be happy to provide some materials for future use," explains Michael Xalxo.
While the knowledge base is designed for the user to help themselves to information, that doesn't mean the technology team is inaccessible for customer support. "On the contrary actually," says Greg Morse, "we developed the knowledge base so that it could free our team up to help people with unique or complicated tech issues not commonly found in the knowledge base." The team is as available as ever to help at tech@overlake.org, and for those comfortable finding their own answers they have a new place to go first.