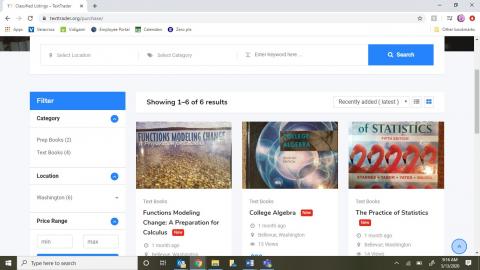 During this pandemic, some people are baking bread, while others are learning to knit or plant a garden. Junior, Sammy Y., is using this extra time to work on an idea he had even before the Covid-19 outbreak, a textbook buying and selling platform.
Sammy worked with a friend at Interlake high school to create TextTrader.org, a platform where students can connect to buy and sell their used textbooks directly with other students. While currently the platform is only being rolled out at Overlake and Interlake High School, if it gains momentum, Sammy hopes to roll it out to other independent schools in King County.
TextTrader allows the seller to post a photo, price, and description of the condition of the book. The seller has the option to sort by price or city so they know how far they would have to travel to purchase the book. The feature would be especially helpful if the platform is rolled out to other schools in King County in the future.  
In a typical year, Follett, the publisher of most of the textbooks, would host a book buyback at the end of the year, but since the dawn of the pandemic, Follett has cancelled that for this year leaving students with no option to sell their books.
"TextTrader was an idea we had before COVID-19. However, I think the problem is much more urgent now that Follett is not doing a book buyback and Amazon is halting the delivery of non-essential items," Sammy said.  
The site itself is entirely student run and maintained and does not make any money. Anyone who posts a book or wants to purchase a book simply connects with the seller online, meets in person, and pays the seller directly. Kind of like a Craigslist for textbooks. While formal book buybacks are an option in other years, Sammy wanted to create an option that was more mutually beneficial and gave students an alternate choice.
"Book buybacks only benefit the seller. TextTrader is a platform that mutually benefits the buyer and seller: the seller gets to earn back their money while the buyer gets a usable textbook for a fraction of the price. Plus, I believe this a great way to enhance the community at Overlake by bringing together students in different grades," Sammy said.  
If you're interested in using TextTrader to sell your books this year, please visit TextTrader.org or talk to Sammy Y. ('21).