Coronavirus Halts Campus but Not Learning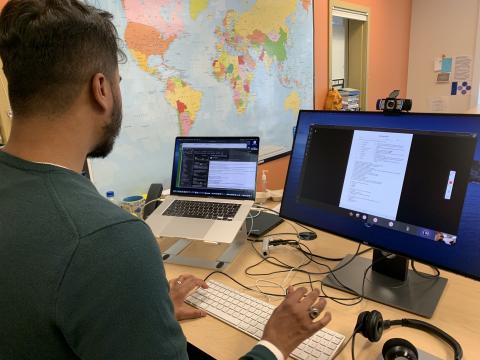 Overlakers are joining together even if they can't meet in the same space together. 
Last Friday, Head of School Matt Horvat announced that the spread of COVID-19 was forcing the school to close campus for the foreseeable future. 
Although the campus is closed, administration, faculty, and staff worked together to develop a plan for distance learning. Leaning on the expertise of our teaching and learning team, along with our technology department, faculty started the week tweaking their teaching styles and methods, from a classroom setting to a computer screen setting.
Wednesday was the first day of Overlake Online. "This week is really testing my growth-mindset and ability to quickly shift," says Arts Teacher Shea Fleming. "It's been tough, but I'm committed to do my best to instruct online."
While many schools closed without any remote instruction, Overlake faculty and administrators worked tirelessly to create lessons that were engaging while still providing a sense of normalcy for the students' day. "It's been going well, but it's really strange to take classes online, says sixth-grader Zainab P. "I'm not able to see my friends, but the teachers are doing a great job to make sure everyone is comfortable with the set up. My teachers have the same lessons. They're just presenting them differently."
That's not to say that there aren't wrinkles that still may need some ironing out. Zainab's brother, Fareed, is in the fifth grade. "Mr. Olson, Ms. Noble and Ms. Bowles are awesome, but I can only hear my friends. I can't see them. Learning is harder because it's tough to get stuff conveyed when all the kids are trying to talk at the same time!"
Internet bandwidth is a real consideration during this time. As more and more schools go to a distance learning model, the demands on internet services is increasing. Overlake's technology team decided to limit some of the features within Canvas, such as students' ability to see one another in class, to lessen the strain on the bandwidth to provide a better overall online experience for the classroom.
"Overlake Online is an unprecedented test of our abilities, both technological and human, to offer instructional and business continuity in the face of the COVID-19 pandemic and the rash of closures in its wake," explains Director of Technology, Jay Heath. "Our faculty and staff have risen to the task of completely rethinking their pedagogy and the tools they use to deliver their content and engage their students. In our seventh year using Canvas, we are well-prepared to use that as our primary platform with students, and on Thursday Canvas doubled the computing power to better support the load we are currently seeing as a result of moving our school exclusively online."
Zainab and Fareed's mom, Manizeh, says it's definitely different to have her kids back at home in the middle of a school year, but appreciates the planning that went into the decision. "I'm really liking that there's structure in their day, and I'm there if they need help. It's been really easy for them to access and follow along." says Manizeh, who closely followed the impact Coronavirus was playing in other schools' decisions. "A couple week's ago when other independent schools were closing, there was a level of concern by parents, but I feel that Overlake put a lot of thought into the management of addressing the virus and then helping the students in the best way possible."
A popular resource for students is our library. For the past several years, Overlake librarians have worked hard to provide digital tools necessary for learning, whether it be physically in the library or across town in a student's home. In this ongoing crisis, the team inside the library is making sure that digital is the way to go when conducting research or needing information for projects. "We have a big collection online with 50-databases that are available 24-hours a day and seven days a week," says Librarian Rebecca Moore. "There are magazines that can be downloaded and thousands of e-books that can be downloaded through Overdrive. Families can even download the SORA app to get into other databases. This is definitely the time to use those sources."
Click here for all of our library resources.