Spring Sports Begin Monday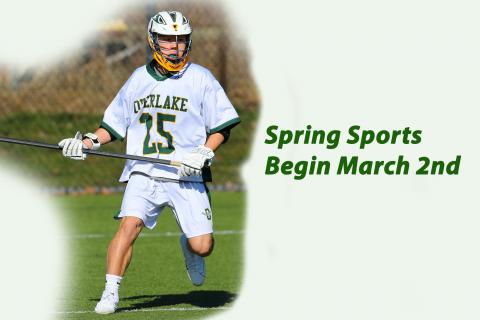 The final season of the 2019-2020 school year kicks off Monday, March 2nd. 
Seven sports are offered on the varsity level for Overlake student-athletes this spring. Boys' and Girls' Lacrosse, Girls' Tennis, Girls' Ultimate, Boys' Baseball, Girls' Golf, and Boys' Soccer return to action. 
Athletic Director John Wiley says the spring season is a great opportunity for both the serious athlete and the student who may be on the fence about trying a new sport. "We're a small school, and we need everybody to participate," explains Wiley. "Whether it's the athlete who commits to their sport year round, or the athlete who has never played the sport, we'll have an opportunity for everyone."
Expectations are high for several of the teams who have seen tremendous growth over the years. Owls Girls Golfers made a team appearance at state last year, and Boys' baseball and lacrosse are once again stacked with talent. Girls' Lacrosse is back with several freshmen expected to contribute. 
As we head toward the end of the school year, Wiley understands that some families may be concerned about the time commitment, but says the Overlake sports experience is so beneficial to young people. "High School sports provides so many unique experiences that you really can't replicate. That team practice in the afternoon creates students who manage their time better and creates a positive culture, " adds Wiley. "It's an environment which prepares our students to be part of a team, and what's the worst thing that can happen? You lose a game, come back, and lace up the shoes for another day to improve."
Add a great lineup of coaches to that experience who teach leadership, and it's easy to see that everyone from the star player to the athlete just discovering a sport, benefits. 
Going into the weekend, Wiley urges players to not overthink it the first week of practice. "Drink a lot of water, take a light jog, and spend time with your family. It's really important that they have a life as a student balanced with that as an athlete. This weekend should be no different than any other," says Wiley.
Click here to see a video the Athletic Department created ahead of the spring season. We look forward to a great spring season and GO OWLS!