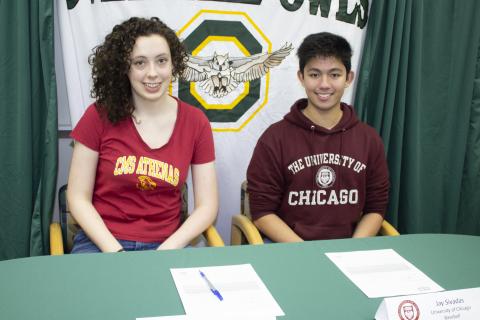 Flanked by family, coaches, friends and Owls fans, two Overlake student athletes signed their national letter of intent forms during our ceremonial college signing day on February 5, 2020.
Jay Sividas ('20) and Eliza Friend ('20) are two Owls who have committed to playing athletics at NCAA schools. Sividas is going to the University of Chicago where he'll play baseball and Friend commits to Claremont McKenna College in California where she will play basketball. 
"We're very proud of them and all that they've done for our program," says Athletic Director John Wiley. "We couldn't be happier for them as they pursue their sports at the next level."
Sivadas has been an integral part of the Overlake baseball program as a catcher.  He says that Overlake Baseball and Head Coach Mike Davidson helped shape him into the adult he is today. "I came into Overlake in 9th Grade, and baseball has always been a big part of my life," says Sividas. "The season never ended for me because I'd always be in the weight room and improving my skills for the next season. But Overlake has prepared me for other facets of life by doing community service or focusing on academics."
Friend "Basketball at Overlake has been such a big part of my life whether it was playing the game or watching my siblings," says Friend who earned Emerald City League First Team honors in both her junior and senior years. "That team mentality is what really brought us together through winning and adversity, and it's why I always enjoyed playing at Overlake. 
Overlake's College Signing Day coincides with the National Letter of Intent Signing Day in which prospective student athletes create certainty in the recruiting process. 
Click here for a short video presentation from the ceremony.