Student Field Trip on Coast Guard's Enemy Climate Change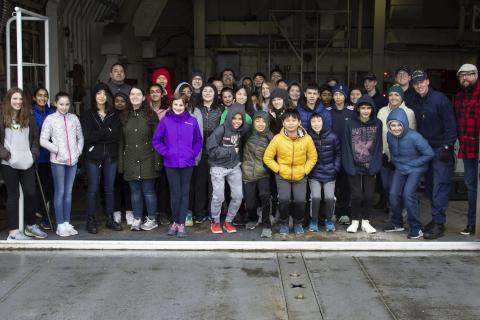 Who would have thought that fellowship over dinner would have led to one of Overlake's most unique field trips in recent memory?
That's exactly what happened with Social Studies Teacher Dave Bennett got together last fall with Ensign Trevor Layman from the United States Coast Guard. Layman left Overlake in 2016 to pursue his passion for science and blended it by enlisting in the Coast Guard. "Trevor and I have been friends since he used to work here," says Bennett. "I started dropping hints about bringing my students, and we put it together."
The logistics of bringing an entire grade of Overlake students and chaperones is no easy task. With several teachers accompanying the group, the decision was made to break up the tour into two groups with one visiting the base while the other visited the renovated Burke Museum on the University of Washington campus. "We want to give the kids a chance to explore the vessel so that's why we take them to a lot of places on the ship like the bridge and hangar.  The kids can talk to people who serve different roles on our missions, and want them to know that the tour is theirs and to indulge their curiosity," explains Layman. 
At the base, students had the opportunity to discover the vast role the branch plays in not only protecting our coastline, but also the work they do creating shipping routes and science. The Coast Guard vessel Healy on which Layman works plays a crucial role in monitoring climate change in our polar regions. "That was kind of the appeal of me joining the Coast Guard," explains Layman who taught Latin at Overlake "This experience allows me to diversify myself and explore some things that I never had done before. One minute I may be doing something very technically oriented and the next minute do something very scientific."
Students discovered that science and maritime work closely together and allows many in the Coast Guard to conduct a variety of duties. Tuesday's tour included climatologists, engineers, mechanics, and even new recruits. The tour included a visit to a ship's bridge, it's flight deck, emergency fire response, and dock operations. "When I thought of military, I always thought of shooting or something like that," says Mahi M. ('25). "It's amazing how much they're doing to combat climate change that affects our world today. So as a part of our defense system they fight against pollution and fix those sort of problems."
Bennett adds that a visit like this is one they won't soon forget and hopes that in addition to a memorable field trip the students will remember the important role that Seattle's Station plays including shipping, recreation, the environment, search and rescue, and law enforcement. "Once you get past that security gate, there's this whole world back there," adds Bennett. "The Coast Guard does a world of good that not only protects our coasts but is in our backyard. I know the kids shared their field trip story with their parents and was a memorable experience in a lot of ways."
Click here to learn more about Layman's career change and our student's visit to USCG Seattle Station.