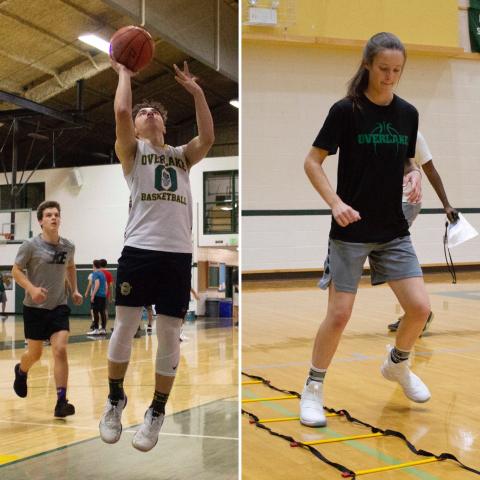 Overlake's Upper School winter sports season began this week with Owls Boys' and Girls' Basketball taking to the hardwood. 
There's lots of optimism with both teams this year as both played in state tournament games last season. Here's a preview of this year's squads.
Girls' hoopsters earn their jerseys
Expectations are high for this year's Girls' Basketball team. After last year's state tournament appearance in Yakima, and with every starter returning, the team hopes to make a repeat visit to March's Hardwood Classic in the Sundome.
Leading the Owls is new Coach Teron Sutherlin. Although he's new to the role of head coach, he's no stranger to players as he is also in our Admission Department, Assistant Coach, and a student advisor. 
For the first few days of practice, one pivotal item was missing from the basketball court…a ball. Sutherlin knows that his players have skills, but he wants to improve on conditioning and team chemistry. He says you can expect a team that will be ready to run and pressure teams with a full court press. "All of the things we're doing now translate to being on the floor including coordination, quickness, and lateral changing of direction," says Sutherlin. "They'll realize what a difference it makes when we begin doing the same things after picking up a ball."
Skills aside, he wants players to work hard. So hard, that he didn't hand out practice jerseys on the first day of practice. "I'm trying to set the tone that this first week isn't about your talent level," says Sutherlin. "It's about the effort you put in, and you earn that jersey through hard work." 
The Owls will have to start the season without a key player. All League MVP Jane C. ('21) suffered a knee injury last spring and continues her rehab under the watchful eyes of Athletic Trainer Kim Stevens. Sutherlin hopes to have her back in time for the playoffs, but adds that it's in no one's interest to rush. Even with the green light to play, he'll give her more and more minutes as the season progresses. 
Three Seniors who have seen ample playing time are chomping at the bite for the season to tip off. Annabelle W., Jessica C., and Eliza F. know that last year's season doesn't mean anything as this one begins, and an early test is an extended schedule of road games in December. "Quote from player"
You can catch the Owls at home on Saturday, November 30 at our intra-squad Green and White game.
Boys' Continue Winning Tradition
Last year's team surprised many Owls fans, but not Head Coach David Bigelow. After some early bumps and bruises, the team peaked at the right time at the end of the season. Making it to the Regionals at state, the team eventually bowed out of the tournament. 
This year's team will feature a lot of new faces on the court. Returning starter Alan N. ('21) will anchor the team with his strong post play that earned him All League Honors. "It's a whole new journey this year, but one thing I hope we can duplicate from last season is the growth-mindset we had, never settling for the status quo," says Bigelow. "We're happy to fly under the radar during all of the pre-season talk and just show up with our play.  We'll need to play unselfish, hard-nosed basketball if we want to have a shot in late February!"
The first couple days of practice had great turnout, and Wednesday team assignments were announced. It also included a break for meetings and strategy. 
They'll have to work quickly as their first contest is on November 30th as the Owls take part in a basketball jamboree at Mariner High School.
Go Owls!