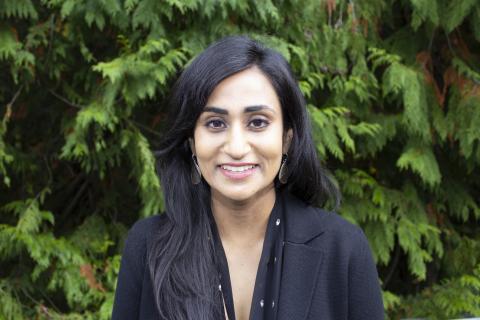 At an all-school assembly this morning Dr. Shivani Srivastava spoke about her work in advanced research on cancer treatments at the Riddell Lab which is part of the Fred Hutchinson Cancer Research Center. Dr. Srivastava is the second recipient of the Distinguished Alumni Award from the Overlake Alumni Association, which honors Alumni whose life and work exemplifies the mission and values of the Overlake School. 
Shivani recalls, "When I started at Overlake back in 6th grade, I was painfully shy. Speaking up in class terrified me, and I spent so much time questioning if I had anything to say, or if what I said was smart enough or funny enough, that most of the time I just kept my mouth shut. My report cards always had the standard comment 'bright but needs to speak up more in class.'"
Shivani worked hard to overcome her natural shyness, and cites the support of "teachers like Army, Lisa Orenstein, Emma Allenduff, and Janet Rothfels, who invested the time to get to know me outside the classroom until I felt comfortable enough to speak up inside it." She also cites the emphasis Overlake puts on writing skills, critical thinking, and self-advocacy as essential to her success as an adult.
After Overlake, Shivani attended Stanford and earned a B.S. in Science and a B.A. in Religious Studies. Initially, Shivani thought that she wanted to pursue medicine, but an interest in immunology led her to research as her focus. After completing her Masters in Biology at Stanford, Shivani returned to the Northwest to work on her Ph.D. in Immunology at the University of Washington School of Medicine. 
Currently, Dr. Srivastava is a postdoctoral fellow at the Fred Hutchinson Cancer Research Center, where she works with Dr. Stan Riddell on developing novel immune-based therapies for cancer. Dr. Riddell is a pioneer in the application of adoptive T cell therapy for the treatment of human cancers. Shivani points out that she is lucky to be in Dr. Riddell's lab because he is also a "great mentor," something she values very highly in the arc of her career to date.
Dr. Srivastava pointed out to the assembled students that she has succeeded in biology despite "not being exceptionally talented at it." It was an advanced course taught by Lisa Orenstein at Overlake that focused her interest in genetics. Reading Matt Ridley's book Genome, "where he uses the story of one gene on each chromosome, and the research and experiments related to it, to discuss some larger biological question, such as to what degree in intelligence inherited, or if there's a genetic component to language was what sent me on the path I am on now." 
Asked about her advice from students, she is quick to point out that "life can be similar to science in that your path from start to finish is rarely linear. More things fail than actually work, but in the end you learn from both, and you keep improving with each iteration."
We are grateful to Dr. Srivastava for taking the time from her busy research schedule to share her experience and observations with our students and faculty. She left us feeling inspired and encouraged as a community of avid learners, and hopeful about work being done to understand and prevent and cure cancer. 
Click here to watch Dr. Srivastava's address to our student body at Friday morning's assembly.