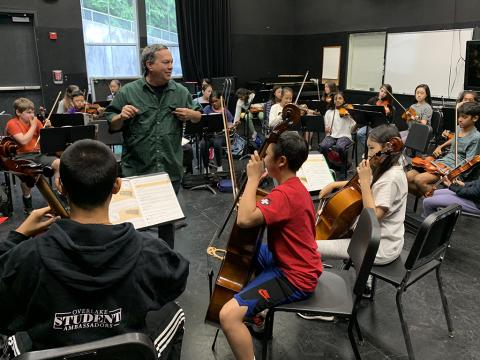 One of the most popular Middle School clubs this year is Intermediate Strings. It's actually a music class that meets during MS Club and study hall and has more than two dozens students taking part by playing violins and cellos.
Music Teacher Mark Lotz says this year's interest in his program exceeded his expectations. "Quite a few of my students have played for at least a year or two," says Lotz. "You can see the confidence and skills they bring into the class so the challenge for me is to find music that they will enjoy, yet push them to improve."
Right now, Intermediate Strings students are preparing for this December's winter orchestra concert and Lotz likes what he sees. "It's really about the notes on the page. Two years in, these kids really understand that. It's a balancing act between getting them to play the music well but also stretch their abilities," adds Lotz.
One way to do that is through performances. Lotz is working with his colleague Steve Mraz to set up a performance or two this fall at local senior living facilities. He thinks that preparation readies them for playing before audiences. 
Click here to watch our Intermediate Strings students in a recent rehearsal inside Fulton Theater's Black Box.