Exploring the Unknown Through Outdoor Education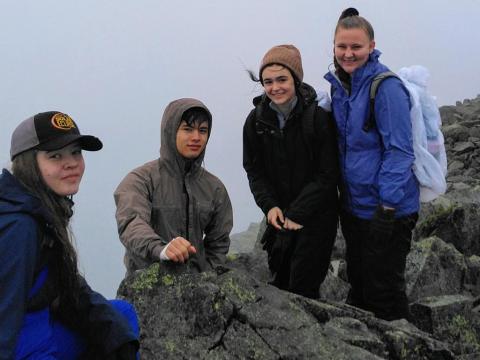 Director of Outdoor Education, Kent Renno gristles when it's suggested his classes take students out in the middle of nowhere.
"Instead of the middle of nowhere, I like to say in the middle of everywhere. Outdoors is where it's at," grins Renno. "My ultimate goal is to have our students find a passion in the outdoors and find the confidence to one day do these experiences themselves."
Overlake's Outdoor Education Program has always been a core curriculum of our school, and it's even a requirement for graduation. With offerings in the mountains, water, forests, and even the sky, there's no shortage of opportunities for any Overlake student to explore. "You name it, and I'll offer it. There's something that fits everyone's level of involvement and their willingness to take safe risks. Whether it's a wilderness first aid class on campus or getting on a bus to take a mystery trip, that group process and overcoming fears are things we want our students to use in life after Overlake. Qualities like leadership, growth, and dealing with adversity are real life."
Most importantly, Renno says the dividends of being in the outdoors translate to more than the classroom. They improve life. "There's all kinds of research that shows when people are stressed or overworked it's healthy to take a break, and these opportunities are a chance to take a break," adds Renno. "Just like being book-smart, we challenge our minds and bodies to do things they may have never done, and that's a learning aspect as well."
This year, the Outdoor Program is working with homerooms to have those experiences. Students can venture out with classmates to bond off campus and outside the normal school hours. Renno also hopes that more Middle School families will encourage their children to get a jump start on finding that passion through a number of programs including one during Parent/Teacher conferences. "We live in an absolutely awesome place. Get out and enjoy the area that we live in."
Click here to see all the opportunities available this fall in our Outdoor Education Program.