Fall Varsity Captains Named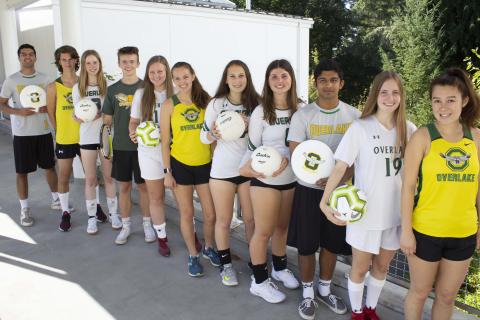 It's about more than ability. 
That's what Overlake Athletic Director John Wiley stresses to his coaches when they select their team captains. 
This week, 11-student athletes were named as fall varsity captains with criteria that goes beyond the scoreboard.
"Leadership is not about being the best," says Wiley. "Leadership is about making everybody else better.  An old coach told me his only rule was, 'Don't let your teammates down.' Those are good words to live by in their new role."
Wiley shared his advice for this year's captains and says it's a good lesson for younger athletes to aspire to lead Overlake teams.
You are the leader representing your team on the fields/courts/courses:
With your teammates by setting the example of how you should play and the effort it takes;
With your opponents by showing them who Overlake is in competition, and the class with which you play;
With referees by supporting their calls - even when they are against your team;
In the classroom as well as any other place where good judgement is needed;
Jessica C. ('20) was named a Co-Captain to the Cross Country team. "I tried cross country for the very first time when I was a freshman, and my captain's positive energy that year was the reason why I came back every single year," says Jessica. 
Volleyball Co-Captain Ivy H. ('21) adds that every Overlake athlete whether they're an all-league player or freshman sitting at the end of the bench should have an incredible experience as an Owl. "I think as a freshmen on any team you want to be treated with the same respect as any other player. It really shouldn't be any different of an experience that a captain has or anyone else on the team," says Ivy.
You'll get to see our Owls in action on Wednesday when the Girls' Volleyball team hosts Seattle Academy in the Gym and Boys Tennis takes on Bear Creek on our courts (the famous 'Taco Truck' will be on hand as well).
Go Owls!