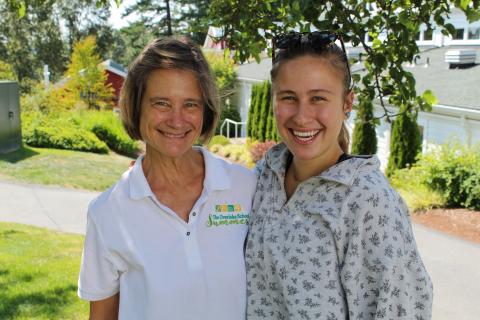 For some, going to work with your mom might sound like a drag, but for Patricia and Julia ('17) Noble, a mother-daughter duo leading camps this summer, it has been a special way to connect.
This is Julia's first year leading an Overlake summer camp, but she's no stranger at Overlake. In addition to being an alum, Julia ('17) was a summer counselor for two years. Julia is studying Psychology at the University of Vermont and chose to spend her summer leading camps at Overlake. Julia wants to work with kids in the future and has enjoyed the learning experience. "Having this interaction and learning how kids think and act has been pretty cool to see. The dynamics shift weekly. You figure out what's going to work for that group of kids," Julia said.
She spent the first couple weeks of the summer shadowing 'becca Flora's, Karen Mihata's, and Mike Hufstader's camps to get the feel of running a camp and then took over teaching them on her own. The camps she led were extremely varied and ranged across disciplines, including arts, athletics, math, and creative writing. One thing Julia noted was the importance of making the curriculum her own and doing her research. "I think the most important thing is to teach something you're enthusiastic about."
One of the best resources she had in learning about camps was her mom, Patricia Noble. This is Patricia's second year leading summer camps but she has also taught fifth-grade math at Overlake for 13 years.
Julia and Patricia would often ride to and from work together and chat about their experiences and help each other problem solve. "It's fun to debrief our days," Julia said. Julia recalls one fun evening preparing and researching for her Mini-Book Binding camp where they had a crafting extravaganza on their deck with a sewing machine, paper cutter, chalk, and all kinds of materials just testing out what worked well.
Patricia and Julia enjoy when the campers realize they're related. "'Oh you're Julia's mom!'" Patricia recalls one camper realizing. "It gives me some status all of a sudden!"
Even the campers cannot help but rave about Julia. Cassandra Brady said, "Julia is nice and patient. You could take any camp with her and it would be fun." Her sister Calista Brady added, "Even though she doesn't teach any of my camps, she is always really nice to me."
This summer Patricia is stepping out of the classroom and into the kitchen by leading several weeks of Mission in the Kitchen. She is enjoying trying something outside of her typical wheelhouse. "Cooking. How do you measure that? You don't measure it. You just enjoy the process," she said.
Julia and Patricia have both devoted their whole summer to the Overlake Summer Program and have loved every minute. As Julia heads back to college in the fall and Patricia steps back into the classroom, both of them can go into the year with many fond memories of summer camp together.
Click here to see photos form the last week at camp.