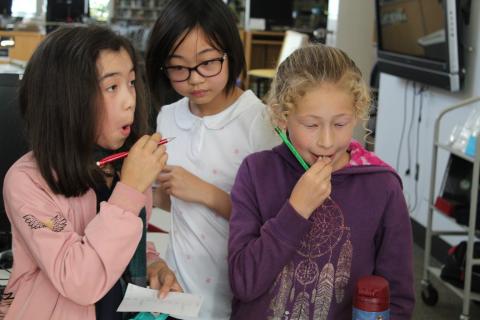 The Overlake Summer Program is committed to evolving each year. New teachers join in and new camps are established. One thing that makes Overlake camps unique is that almost all the camps are led by Overlake faculty.  Some faculty like Shea Fleming have just completed their first year at Overlake and some like Michael Krumbholz have taught at Overlake for 10 years, but both are just a few of the faculty trying something new by leading a summer camp for the first time.
Faculty are given the opportunity to either step into an existing camp, or design their own. This is one of the ways the camps are kept fresh and vibrant each year. This year, one of our new camps is Witchcraft and Wizardry for Muggles, a Harry Potter themed camp led by Krumbholz. During the school year he leads the Harry Potter club so he thought it would make for a fun camp experience. In addition to being sorted into houses at the beginning of the week, the campers crafted their own wands from various materials and had a taste test of Bott's Every Flavor Beans.
Krumbholz really loved how much the campers got into the wand making. "You put the tools in their hands and show them how to use them and the variety is amazing," he said.
The culminating experience was a Harry Potter themed escape room that had been designed during the school year by the Harry Potter club but hadn't yet been tested out. The campers really enjoyed the puzzles and challenges.
One thing the teachers enjoy about the summer camps compared to the school year is the laid back atmosphere of the summer camps. Fleming commented that she loves that the goal is for the kids to learn, but most importantly to have fun. She, like many other new teachers, joined the summer program at the recommendation and encouragement of their peers, and the opportunity to do something different during the summer.
"It's been a great way to get to know Overlake differently," Fleming said. While this year she is leading the pre-existing Debate camp, she's already thinking about possible new fun ideas for the future. With the ability to design their own camps, the faculty are almost unlimited in their possibilities.
When Danielle Troy thought about doing a camp, she wanted to create something different. She drew on her own experience as a mom when she would look for camps for her son. She said, "It's often harder to find a camp that has a more varied approach. It's usually 'just a drawing camp or just a painting camp'". During her 5 Days of Art camp, students are introduced to a different material and project every day. "I wanted to do something where the students get a really big variety and are introduced to a whole bunch of cool stuff." 
With the constant influx of new teachers and new camps, the summer camp experience for campers continues to evolve, giving kids something new to look forward to each time they come back to an Overlake summer camp.
Click here to see photos from this week at camp.