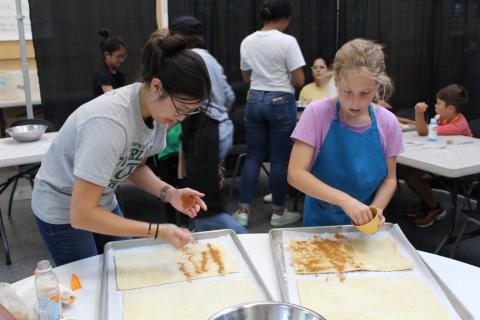 Jen Pan has been involved in the summer program since its inception. Starting by leading the cooking camps with Alicia Gold, helping launch the Cultural Exchange Program, and going on to lead other camps over the years, Jen has seen and helped the summer program evolve.
"I've always been impressed by the way Jen connects with students and teachers," said Nate Edmunds, Summer Program Director. "She has a great pulse on what summer learning can be."
This year Jen has stepped into a new role as Summer Program Assistant Director. One of the aspects of her role she enjoys is seeing the camps from a different perspective. "I get to see how my colleagues are teaching and how awesome they are working with kids that I never get the opportunity to see during the school year," Jen said.
With a natural tendency to be encouraging and empower others, Jen is able to be a support system to the counselors and encourage them week to week. "I've really enjoyed seeing how much they have taken on being fully in charge. It seems like in some ways, the counselors run the show. We can do all this back end paperwork but in the end, counselors are the face of this program, interacting with the kids day in and day out," Jen said. "And they work really hard."
Sometimes the days can get long for a counselor at camp, but Jen is right there offering encouragement, problem solving, and support for each counselor.
"She always checks in with us at the end of our shift 'How'd it go? What do you need?' She makes sure that we're supporting not only the camp but also ourselves," commented Grace Fujinaga '19.
Grace loves how at the beginning of each week Jen finds out what each counselor's favorite coffee drink, treat, etc is and will sometimes bring in treats during the week as a fun surprise. "Their energy is what fuels the campers to stay energetic too," Jen commented.
Handing control off to the counselors allows Jen to empower the students to be great leaders and gives her the opportunity to be personally involved with each camp.
"I get to pop in and I get to be a kid again. I get to do the camps they're doing," Jen said.
In addition to the behind the scenes administrative work, Jen has used her passion and ingenuity to reimagine community time and have it be a time to foster connection and fun across all the camps. During the training process Jen worked closely with the counselors to help them come up with a list of activities for them to lead that help break up the day for the campers and leaders. "Jen has helped us develop a stronger summer community," explained Nate. "She works incredibly hard to ensure that every camper and counselor feels connected to the overarching camp experience."
With a spirit of humility, a smile, and a 'how can we do this better attitude,' Jen has infused the summer program with her own brand of fun and encouragement. "Jen brings out the best in everyone around her. She's had a significant impact on everyone in the program." Nate said.