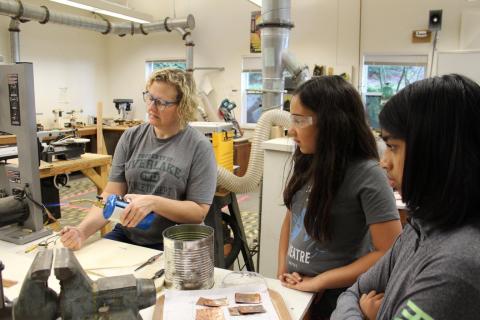 Summer is a great time to mix it up. Do something different, try something new, or just embrace a hobby. This is just as true for kids as it is for adults. At Overlake, collaborating with another teacher to lead a camp is a great way for our faculty to get outside of their school-year routines.
This week we had several teachers pair together in different camps, including Dana Len and Mollie Montgomery, who teamed up to run Art on Fire. While both are art teachers, each of them has individual strengths: you might more often find Dana with a brush and a canvas and find Mollie next door in the woodshop. This week, they joined their individual talents to create a new camp, exposing campers to a variety of mediums including, glass, copper, and clay. Over the course of the week, campers learned how each medium reacts to extreme heat to create something beautiful. They finished the week by constructing mobiles out of branches they found in the woods on campus, a project that Dana and Mollie created when brainstorming different ideas for the camp.
Overlake has always encouraged students to branch out and do a variety of activities, and even the teachers are taking that advice. Bringing together the classroom and field, Alicia Gold and Jennifer Pan ran Mission in the Kitchen: Brunch. The camp is a fun opportunity to bring together their passions and experiences outside their "typical" classrooms.
Alicia used to run a restaurant and has picked up cooking skills through that experience and Jennifer enjoys cooking, so it seemed only natural that they should collaborate to run these camps. They have even coached together so they knew they enjoyed working together.
"Our skill sets are complementary," explains Gold. "She's a classroom teacher, I'm a field teacher. But we manage to blend the talents very well. She's able to immediately command presence in a classroom setting and knows how to keep kids on task and listening."
The other pairings this week included Joey Pauley and Kim Stevens, who led daily hiking trips for middle schoolers, and Julia Noble '17, Karen Mihata, Mike Hufstader who teamed together for Building and Design, Mini-Book Binding and Poetry, and Games Galore. These pairings not only ensured the safety and instructional support that our campers need, but also provided something that is essential to summer camp: fun.
"I loved working with Karen and Mike," explains Noble. "They gave me so many great ideas for the camps I'll be leading later this summer. More than anything, it was just a lot of fun."
The collaboration spirit will remain high throughout the summer. Next week Julia Noble will team with 'becca Flora and Mike Hufstader will join Dana Len for our first-ever 4th of July camps, which will take students on field trips and to all parts of Overlake's beautiful campus.