School's Out - Summer Camp Begins!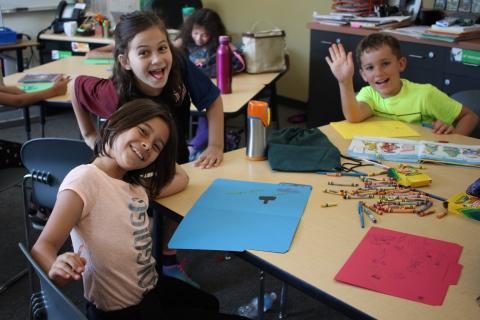 As the school year is now over, so starts another season at Overlake: The Summer Program! Now in its fifth year, the summer program has really grown. "This summer we will welcome more than 300 students to campus," says Nate Edmunds, Summer Program Director. "We are fortunate to have such dedicated teachers who love working with students outside of the traditional classroom setting."
Because of the increase numbers of campers, Overlake has expanded its counselor staff, providing leadership opportunities for rising seniors and recent graduates. The counselors provide instructional support for teachers, welcome students to start each day, and run "Green and Gold" themed activities during community time. "Counselors are the glue of our program," continues Edmunds. "In every counselor interview, they shared their desire to give back to the Overlake community by paying their experience forward. They are eager to create a fun and inclusive environment for each student."
The Summer Program kicks off with a local favorite - Hoop Camp, which runs from June 11-14 (9:00-3:30). In the weeks that follow, there are a wide range of camps in the arts, humanities, outdoors, and sciences. In addition, Overlake will experiment with "Fourth of July" camps this year, pairing teachers together from different disciplines to create camps that get outside and off campus on a regular basis. "Every year we create new, experimental camps that push the boundaries of what we're used to doing," explains Edmunds. "Summer is the perfect time for that type of experimentation; we're excited to see how it goes!"
Despite the record numbers, there are still camps open for late registration. To view all the camp offerings, visit overlake.org/summer.