Battle of the Books 2019!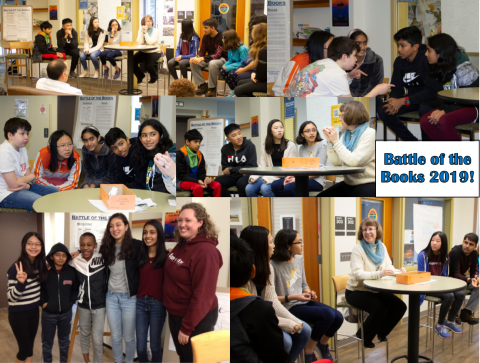 After a six week delay due to our unexpected winter wonderland in February, Overlake and Open Window were finally able to run our 2019 Battle of the Books! This year the venue was Overlake, so we were joined this morning by 16 strong competitors from Open Window, accompanied by their librarian, Lauren Richey.
The Battle of the Books is a combination reading contest and game show, in which teams of students compete to answer questions from a set list of books. Half of the books are chosen by students, the other half by the librarians. For 6th-8th graders at Overlake, the Battle is voluntary, and 18 Overlake students signed up this year. Students were challenged with questions like: "In which book did the main character say he felt "as dangerous as a cauliflower"?" ('The Dragonet Prophecy' by Tui Sutherland). Ms. Richey kept score, and volunteer parent David Hill acted as timekeeper.
After several regular rounds and two semi-final rounds, it came down to Open Window Team Six against Overlake Team Three (Anika K., Gavin, Venkat, Fiona, Mahi) for the final. It was a heartbreaker, with only one missed question that gave the win to Open Window. Many congratulations to them! We look forward to challenging their title next year at Open Window.
Thanks to David Hill, Lauren Richey, Mike Krumholz, Ann Ewel and Nicole Rockwell for their support, as well as all the parents who provided the snacks!
Image credits: Dave Chudzik. See many more of his wonderful Battle pictures on Vidigami!